Westpac has announced its 200 Businesses of Tomorrow; an exceptional line-up of Australian businesses that have demonstrated a clear vision to shape the country's future as it transitions to a services and knowledge-based economy.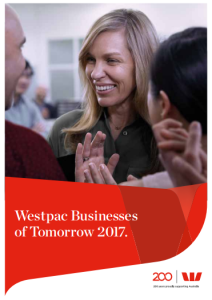 The 200 diverse businesses from across Australia gathered at the Businesses of Tomorrow Summit in Sydney alongside business leaders, to network, share knowledge, and collaborate on the future of Australian business.
"Truly remarkable things happen when businesses come together; and we know that networking and collaboration are among the top drivers of business success," said David Lindberg, Chief Executive, Westpac Business Bank.
"Bringing together 200 businesses that all have the potential to shape our nation's future presents an opportunity for the Australian business community. We are helping the next generation of Australian businesses to thrive and succeed in a changing world."
The Businesses of Tomorrow, which represent a broad range of industries, have a collective turnover of approximately $2 billion per year and support thousands of employees.
According to Mr Lindberg, technology businesses make up 40 per cent of the top 200 businesses, health businesses constitute 9 per cent of the list, while education businesses comprise 9 per cent of the top 200.
"Our businesses represent the diversity of Australia – large and small, new and established businesses, across all industries and sectors," he continued.
"It's pleasing to see strong representation among service-led sectors such as health, professional services and technology, all predicted to have strong growth over the next 10 years. These businesses demonstrated the potential for a higher purpose."
Westpac has also named 20 high potential Australian businesses that will receive a tailored $100,000 professional services package and one-on-one mentoring from some of the nation's most influential companies, in addition to participating in a global study tour to learn from leading businesses in China and the US.
Westpac said the Businesses of Tomorrow were independently assessed by Deloitte and chosen by a high profile judging panel including: Alison Deans, Director: Westpac, Cochlear, IAG, kikki K; Prof. Chris Styles, Dean, UNSW Business School; David Lindberg, Chief Executive, Westpac Business Bank; Eric Johnston, Editor, Australian Business Review; Lyn Cobley, Chief Executive, Westpac Institutional Bank; Pip Marlow, former Managing Director, Microsoft; and Simon Cant, Co-Founder and Managing Director of Reinventure Group.