Queensland's largest wholesale fruit and vegetable marketplace, the Brisbane Produce Market, is set to receive greater protection thanks to a new $10 million roofing project.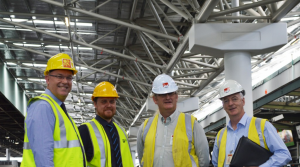 Brisbane Markets Limited (BML) awarded food manufacturing facility specialist Wiley a contract to design and build Stage 2 of the project comprising a $3.7 million roof extension covering 2,500m2.
The roofing project will increase shelter for more than 600,000 tonnes of fruit and vegetables traded each year at the market, which is also the third largest Central Market in Australia.
"We are pleased to secure the contract with BML to work on stage two of the roof for its iconic wholesale trading site. More than 7,000 growers supply produce for sale at the Brisbane Markets and up to 4,000 people work or do business there on a daily basis so this project has been highly complex," said Wiley Managing Director Tom Wiley in a media release.
"We were part of a collaborative process of engagement undertaken by BML over a three-year period to ensure the trading floor tenants were consulted and were part of the process. The first stage has involved installing two roofing structures of around 4,000m² each, individually supported by a single row of 10 columns. It has also involved refurbishing the flanking building facades."
According to Mr Wiley, the company's work on Stage 1 of the project, which involves a $6.3 million roof upgrade, is on schedule for completion in April this year.
"We are pleased with the progress Wiley is making on stage one, and we look forward to continuing to work together on stage two to ensure we keep providing international-standard facilities and services," said BML Chief Executive Officer Andrew Young.
"Stage one of the project has been progressing successfully thanks to the co-operation of the vendors in this unique construction environment. We look forward to continuing to use an elite combination of site management, teamwork, and precision craftsmanship as we progress towards completing stage one, and move onto stage two," added Wiley Senior Project Manager Barry Murphy.