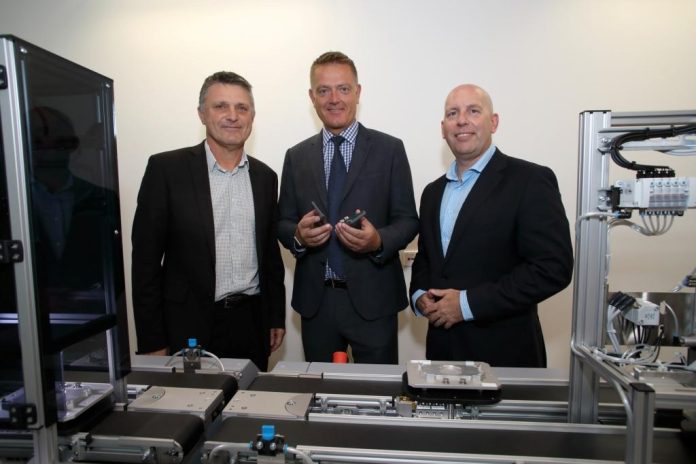 The Innovative Manufacturing Cooperative Research Centre (IMCRC) has announced the official opening of the state-of-the-art Tonsley Manufacturing Innovation (TMI) Hub in Adelaide.
The Hub, which is located in  the award-winning Tonsley Innovation Precinct (the former site of Mitsubishi's automotive manufacturing in Australia), is being driven by Flinders University, the South Australian Government and the IMCRC.
At the heart of the TMI Hub is the modular Future Factory, which showcases the latest automation, sensor, monitoring, robotic and cobotic technologies and provides the opportunity for world-class education and training in advanced manufacturing within a research environment.
Professor John Spoehr, the Director of the Australian Industrial Transformational Institute, said the TMI Hub will provide practical training and real-world research opportunities for students, researchers and businesses wanting to learn more about automation, advanced robotics and the Internet of Things.
"The TMI will showcase the latest generation of Future Factory technologies which are revolutionising the way we design and make things," Professor Spoehr added.
"It's a prime example of how traditional manufacturing is making way for advanced manufacturing in the new economy."
He said the Hub will play a key role in accelerating the growth of advanced manufacturing and in promoting the understanding and application of the Industry 4.0 (i4.0) agenda, including robotics and automation in highly networked and flexible cloud-based production systems.
"It will also help organisations to build their i4.0 capabilities through accredited and non-accredited education and training programs," Mr Spoehr continued.
"Companies that engage with the TMI will greatly improve their chances of successful participation in defence supply chains to tap into the $90 billion worth of shipbuilding projects taking place in South Australia."
"Flinders welcomes the opportunity to partner with the State Government and the Innovative Manufacturing CRC to establish a truly world-class facility at Flinders University at Tonsley."
SAGE Automation is one of the leading companies with a presence at the TMI Hub. The company's CEO, Adrian Fahey, said the Tonsley Manufacturing Innovation Hub was a great opportunity to build even stronger links between education and industry,
"Being a part of this Hub gives is an opportunity to continue to focus on what we're doing in industry 4.0, but also to tap into some of the new thinking from the institutes and the University and collaborate to deliver the very best thinking for our clients," he concluded.
Image provided