Australian company Bilexys Pty Ltd, a start up that developed a revolutionary approach to treat wastewater, will be exhibiting in the Innovation Pavilion at WEFTEC in Chicago from October 5-9, 2013.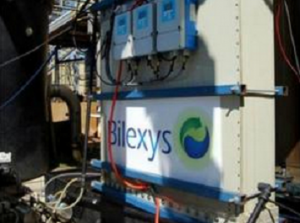 According to the media release from parent company UniQuest, Dr. Tony Keating, Director of Commercial Engagement, Engineering and ICT for UniQuest Pty Limited will be representing Bilexys in Chicago, as well as other Australian innovations including Cloevis, the low-cost way to prevent sewer corrosion and odour, and other technologies from The University of Queensland's Advanced Water Management Centre.
Bilexys, a 2012 Imagine H20 competition winner, is a company focused on commercialising bioelectrochemical systems and has developed an alternative manufacturing platform for the production of chemicals and plastics. The company has pioneered a new way to treat wastewater by converting it to caustic soda and/or hydrogen peroxide for use on site.
"Reversing the traditional view where wastewater treatment is considered an operating expense, Bilexys approaches wastewater treatment as an opportunity to biologically convert the organics within wastewater into high-value chemical products (including sodium hydroxide and hydrogen peroxide)," according to UniQuest.
"Chemicals produced utilising Bilexys' methodology reduces the need for companies to source and obtain chemicals, providing significant environmental and economic benefits to customers, with potential payback within two years."
The Bilexys technology uses naturally occurring bacteria to harvest the energy stored in the organic material and applies this energy to the creation of valuable products. The chemicals can be used on site, reducing the need to purchase them and ultimately delivering economical and environmental return on investment for customers. A fully operational 1000 litre pilot plant has already been installed and has successfully produced food grade sodium hydroxide from wastewater.
Bilexys and Cloevis are both products of The University of Queensland's Advanced Water Management Centre, an internationally-recognised Centre of Excellence in innovative water technology and management, with an award-winning team and research portfolio.