Four Toyota vehicles including two sedans which are being manufactured at the car maker's facility in Altona have been named as finalists in Australia's Best Cars Awards.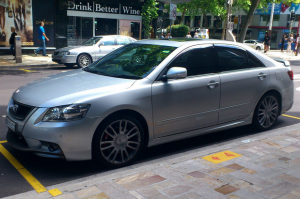 According to a press release from Toyota, the Camry Hybrid H, the V6-powered Aurion AT-X, the Prius v hybrid and the Prado GXL turbo-diesel have been selected as finalists in the annual competition which is judged by premier motoring clubs. The Camry and Aurion models are both Australian-built cars produced in Melbourne.
"The finalists are the very best cars in their respective categories based on safety, value for money and performance," said Australian Automobile Association chief executive Andrew McKellar.
Including the hybrid-powered Lexus IS 300h and GS 450h, and the GS 350 F Sport, the Toyota group leads the competition with a total of seven finalists.
Toyota Australia executive director of sales and marketing Tony Cramb said the company is proud to have two of the nominated cars produced in Australia.
"It is a tribute to our entire workforce that the two vehicle lines we produce in Australia – Camry and Aurion – have been recognised in this way by Australia's Best Cars judges," Mr. Cramb said.
"They have independently rated these two sedans ahead of a large number of vehicles from around the world, confirming that Australia produces cars with world-class levels of quality, performance, features and value."
Mr. Cramb says the nominations have made them even more determined to transform their business in order to remain viable in the future.
The announcement of the nominations comes after Toyota Australia announced two weeks ago that up to 100 voluntary redundancies will take place in its Altona plant. The job cuts are in response to the drop in export orders, rendering the current size of its manufacturing workforce unsustainable, according to the company.
The nominated employees will finish work at the plant on November 29, 2013, Friday. Approximately 2,500 people currently work at the manufacturing plant in Melbourne's west.