Amcor Rigid Plastics will be manufacturing the PET containers for the first ambient stored yogurt manufactured by Empresas Polar, the leading Venezuelan company in food and beverage production.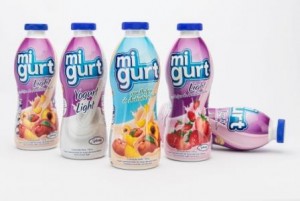 The new non-refrigerated yogurt called MiGurt is bottled in an aseptically filled, 750-gram barrier polyethylene terephthalate (PET) container, manufactured by Amcor Rigid Plastics, the world's most renowned manufacturer of rigid plastic packaging.
Empresas Polar set its foothold into the Venezuelan dairy market through its subsidiary Pascual Andina.
The company has collaborated with Amcor to help them design a new packaging solution in order to be able to compete with leading cold distribution channel products.
The new multi-serve pourable yogurt has an extended shelf life of six months and does not require refrigeration before it is opened.
The product's resilient properties will enable the company to maximize the use of their vast nationwide ambient distribution chain and reach previously unreachable customers in remote regions not served by refrigerated channels.
Manuel Capdevielle, the Director of Empresas Polar says that MiGurt sales have exceeded all expectations since the product hit the shelves at the end of the last year.
"A long shelf life yogurt product was a key to commercialization because it provided low-cost distribution and a highly affordable consumer brand," explained Capdevielle.
Amcor's custom designed container played a key role in the product's immense success on the market. The company has designed its first light-blocking, aseptically filled PET container to meet Empresas Polar's both aesthetic and functional requirements.
Amcor used advanced barrier technology to meet aseptic filling requirements (up to 140º F) and enable light-blocking properties in order to prolong the shelf life of the yogurt and protect it from spoilage while maintaining its nutritional value.
Mercedes Candedo, Diversified Products Manager for Amcor's Latin American business said the unique bottle design that requires no refrigeration has offered major logistical advantages in terms of inventory control, distribution and point of sale.
"The new barrier PET container represents a major development in ambient foods, offering a unique packaging solution that opens up new business opportunities in the food and beverage market," said Candedo.
The company has also come up with a unique hour-glass design that minimizes resin use by optimizing PET material distribution throughout the container.
"Uniform material distribution is vital for effective light-blocking performance," said Chris LaBombarbe, senior technical manager for Amcor Rigid Plastics.