Australia's National Manufacturing Week (NMW), the largest manufacturing event in the country, will offer a revised floorplan in next year's edition which is scheduled to take place at the Sydney Showground next May 13-16.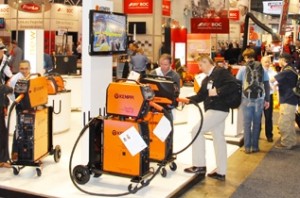 According to a press release featured on NMW, the new revised program will incorporate a record 15 Product Zones, and will also house a R&D Hub, as well as the Ausplas exhibition, Australia's plastic trade show which is held once every three years.
NMw will also introduce six new Product Zones dedicated to the country's leading manufacturing innovation sectors, such as the fast-growing Digital and Additive manufacturing sectors and the Machine Tool sector, showcasing everything from CNC machining centers to laser equipment.
In addition, the event will host the Engineering Services Product Zone, which will present solutions for transforming manufacturing processes.
Reed Exhibitions, the event organizer, has also changed the nature of other Product Zones in accordance with industry developments. For example, Clean Tech (the former Sustainable Manufacturing Zone) will present a broader range of sustainable manufacturing technologies, while The Automation & Robotics area will include total solutions and collaborative robotics.
"Each year, we review NMW in line with independent research and Reed Exhibition's own intelligence on industry directions. Arising from the research findings, NMW 2014's new floorplan will highlight ideas, technologies and strategies that are helping manufacturers drive sales growth," said NMW Exhibition Director, Anthony Reed.
"We are also providing more opportunities – through the Solutions Theater and R&D Hub – for industry to make the contacts and conversations that spark new ideas."
According to him, NMW 2014 had been designed to give more ideas to a broader cross section of industry, aimed at offering more reasons for companies to exhibit their innovations. Mr. Reed said that over 100 companies have already committed to participating in the event and that available space was being quickly allocated.
"I urge anyone thinking of participating to contact us as soon as is possible, to secure their place," Mr. Reed concluded.
For further details please visit the exhibit page or download the exhibitor prospectus here.