The 51st Australian Export Awards were presented to 12 category winners of this year's edition that was held in the Great Hall at the National Gallery Victoria International in Melbourne.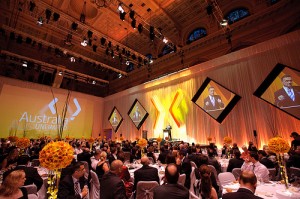 The event recognised 12 companies for their contribution in agribusiness, creative industries, education and training, minerals and energy, health and biotechnology and manufacturing.
The Australian Export Awards is a national program that recognizes Australian companies in international businesses that have successfully achieved sustainable growth through innovation and commitment.
According to the media release featured on the Australian Export Awards website, this year's 76 national finalists have contributed heavily to Australia's economy, with combined total of 49.1 billion earnings in exports in the international markets.
This year's edition of the Awards marked the 14th consecutive time that the Australian Made has sponsored the Manufacturing category of the Australian Export Awards, which was presented to RØDE Microphones, a manufacturer of audio products,  reports Australian Made.
The award in this category was presented to the winner by Australian Made Chief Executive, Ian Harrison.
The main award, which is the Prime Minister's Australian Exporter of the Year Award, was awarded to Rightship, a ship vetting company which helps exporters get their products safely throughout the world markets.
The 51st Awards were co-presented by Austrade and the Australian Chamber of Commerce and Industry.
Below is a list of the 12 category winners of the 51st Australian Export Awards:
Agribusiness Award
Walnuts Australia (TAS)
Business Services Award
RightShip (VIC)
Creative Industries Award
Animal Logic (NSW)
Education and Training Award
Monash University (VIC)
Environmental Solutions Award
Ecotech (VIC)
Health and Biotechnology Award
Apsen Medical (ACT)
Information and Communication Technology Award
LeadBolt (NSW)
Infrastructure and Construction Award
Cardino (QLD)
Manufacturing Award
RØDE Microphones (NSW)
Minerals and Energy Award
Otraco (WA)
Regional Exporter Award
Tasmanian Quality Meats (TAS)
Small Business Award
SWA Water Australia (NSW)