After launching its revolutionary Cubify 3D printer in 2012, 3D systems have set out to go beyond the hobby market with its family-oriented Cube 3.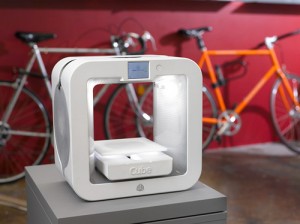 According to the article on Gizmag, the new 3D printer will be available for under US$ 1,000, which is considerably less than its predecessor Cube 2 that sold for $1,299, while also upping maximum creation size and adding a new mobile app for more convenient printing.
The Cube 3 uses recyclable ABS and compostable PLA plastic available in a range of over 20 colours and its dual jets allow for mix-and-match dual colour material objects. Moreover, the latest version is equipped to print two materials and two colours at the same time.
It is slightly larger than the Cube 2, measuring 13.3 x 13.3 x11 in (33.5×33.8×28 cm) and weighing 7.7 kg.
As mentioned above, Cube 3 increases the maximum creation size of its predecessor, allowing for creation size of 6 x 6 x 6 in (15.25 x 15.25 x 15.25), which is quite good for a 3D printer of this price range.
The company is advertising the Cube 3 as a printer for the family home, stating that is recommended for children over eight years of age. This is complemented by the companion smartphone app (iOS, Android and Windows compatible), enabling users to connect to the Cubify online platform that features dozens of pre-designed objects, such as bottle-openers, dinosaur fossils and NBA figurines. The designs are then printed remotely via the printer's build-in Wi-Fi 802.11b/g.
3D Systems also announced its high-end printing solution, the Cube Pro, aimed at the more professional end of the market. The Cube Pro is capable of printing objects of considerable size 10.75 x 10.75 x 9.5 in (27.3 x 27.3 x 24.1 cm) and possesses the ability to mix three colours simultaneously. The Cube Pro will sell for under $5,000.
Both devices are set to be released this year.