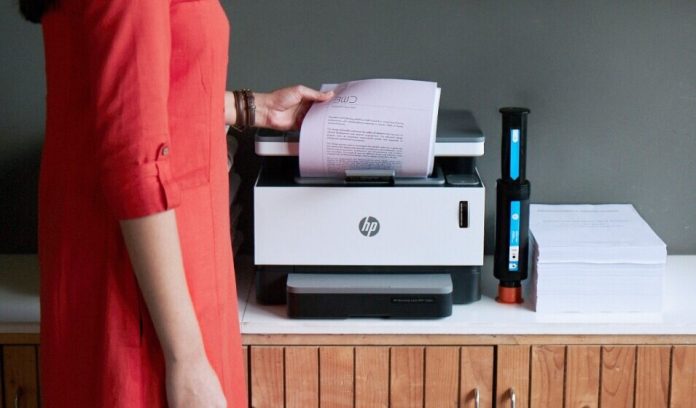 The 'Work from Anywhere' Series is Sponsored By 
In the last piece of our three-part Work from Anywhere series we're going to focus on a real breakthrough in smart office equipment and why small business owners still need to take advantage of printed marketing materials in order to stand out in the digital age.
A small business would benefit greatly from smart technology that would help them simplify their operations, especially with numerous official documents, company profiles and contracts to be printed.
Enter the HP Neverstop Laser Printer. This top-of-the-line range from the company that brought you the OfficeJet Pro printers is truly revolutionary in every sense of the word. The reloadable laser printer saves you toner on your first use and when you reload. You can print up to 5000 pages right out of the box[1] even before you replace the toner, which also means you print more pages than other in-class laser printers.
With the HP Neverstop Laser you get high quality laser printing at an ultra-low cost.[2] It not only saves you money, but also time, with its mess-free reloadable toner.[3,4] When your toner runs low you can easily reload a new one with the HP Toner Reload Kit in a matter of seconds, and then you can back to your printing tasks.
Best of all, you have the freedom to work anywhere using the best-in-class HP Smart App.[5] The app, which is available to download on both the Apple Store and Google Play, is also a key feature of HP's OfficeJet Pro series printers. The HP Smart App can easily be set up in your mobile device, tablet, laptop or smartphone, so you can organise documents faster and print remotely from virtually anywhere.
The HP Smart Tasks feature simplifies the print, scan and copy functions of a printer, a productivity hack that small business owners would greatly appreciate. You can digitize and organize your business documents with just one command, and print receipts or upload them to business software for record keeping.
The HP Neverstop Laser also boasts of fast print speeds of up to 20 pages per minute for their mono printers. Users can also easily share resources through wireless networking. And last but not the least, these printers have up to 84% smaller environmental footprints.
HP has taken innovation to new heights with the Neverstop Laser, and has truly put the interests of small business owners in mind. When it comes to time and cost-savings, speed, ease of usage and environmentally-friendly features, the HP Neverstop Laser is the best option for your small business and home office.
Check out the full line of HP Neverstop Laser Printers here. 
---
Product images are for illustration purposes only, product availability and colours may vary by country.
Australia printer market share as #1 for Inkjet and Laser Shipment Units, Years = 2016 Q1 – FY2019 Q4, Source IDC Quarterly HCP Tracker, Final Historical 2019Q4.
The use of the name Neverstop Laser does not mean that the printer will not stop or operate error-free.
1. Actual yield varies considerably based on content of printed pages and other factors. Average based on ISO/IEC 19752 and continuous printing. Additional printed pages requires toner reload. For details see: www.hp.com/go/learnaboutsupplies
2. Based on internal HP comparison of MSRP and cost-per-page of in-class HP LaserJet Pro M15 with standard-fill HP 48A Black Original LaserJet Toner Cartridge, as of March 2019. For details see: www.hp.com/go/learnaboutsupplies.
3. HP internal research and Keypoint Intelligence-Buyers Lab 2018 study commissioned by HP. For details see www.keypointintelligence.com/HPNeverstopExternal link
4. HP Toner Reload Kit is not included with the printer; please purchase separately.
5. Requires the HP Smart app download. For details on local printing requirements see www.hp.com/go/mobileprinting. Certain features/software are available in English language only.