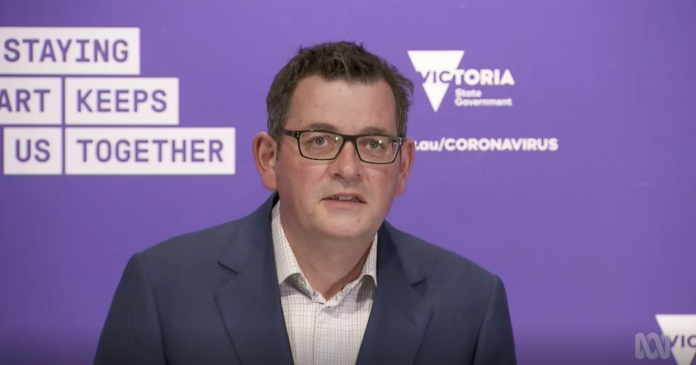 Disclaimer: This is a developing story. Please visit the Department of Health & Human Services for more accurate and up-to-date news and information on this announcement and how it affects any particular business, sector or industry. 
Premier Daniel Andrews has released a statement confirming the temporary closure of many businesses for at least six weeks in Victoria as the state implements stage four lockdown restrictions. 
Among industries affected by the closures are those in the manufacturing sector. From 11:59pm on Wednesday, August 5, the following manufacturing business closures will be implemented:
A. Closed for On-Site Work
Non-metallic mineral product manufacturing
Fabricated metal product manufacturing
Furniture and other manufacturing
Other wood product manufacturing
Textile manufacturing
Leather tanning, fur dressing and leather product manufacturing
Textile product manufacturing
Knitted product manufacturing
Clothing and footwear manufacturing
Domestic appliance manufacturing
B. Open for On-Site Work (operating under a COVID Safe Plan)
Food and beverage production manufacturing

Meat and meat product manufacturing
Seafood processing
Dairy product manufacturing
Fruit and vegetable processing
Oil and fat manufacturing
Grain mill and cereal product manufacturing
Bakery product manufacturing
Sugar and Confectionery manufacturing
Other food and beverage product manufacturing

Medical equipment and PPE including cloth masks
Petroleum and coal product manufacturing
Basic chemical and chemical product manufacturing
Coffin and casket manufacturing
Aluminium smelting
Cement and lime manufacturing
Pharmaceutical products
Sanitary products
Telecommunications infrastructure
Goods and material necessary for or related to supporting defence or security industries
Manufacturing to support residential building industry
Pulp, paper and converted paper product manufacturing
Printing and support services
Fertiliser and pesticide manufacturing
Cleaning compound and toiletry preparation manufacturing
Glass and glass product manufacturing, including lens
Computer and electronic equipment manufacturing
Heating and ventilation manufacturing
Manufacturing to support critical infrastructure public works
Manufacture of polyethylene and resins
Heavy truck manufacturing
Specialised machinery and equipment

Microelectronics and semi-conductor products
Heating and cooling equipment
Household paper products

Transport equipment manufacturing (critical to public transport service; spare parts manufacturing critical to continuity of service)
C. Restricted Operations or Industry Specific Obligations
Meat, meat product and seafood processing and distribution centres are considered a high-risk industry and subject to industry tailored High Risk COVID Safe plan
33 per cent reduction compared to peak capacity
Statewide – Regions included
Single site only – no site hopping
Supermarket distribution centres will implement a 33 per cent reduction of peak workforce will be implemented upon commencement of the directions
The following manufacturing businesses may maintain skeleton staffing to ensure facilities and equipment is managed safely and in line with environmental requirements and EPA advice or continue where they provide an ancillary service critical to the operation of a permitted activity or industry.
Polymer and rubber production
Polymer product and rubber product manufacturing
Other basic chemical product manufacturing
Primary metal and metal product manufacturing
Basic polymer manufacturing
In the mining sector, mining exploration activities will be closed, while coal mining, oil and gas extraction, metal ore mining, non-metallic mineral mining and quarrying, and petroleum production, will remain open provided there is a COVID Safe Plan in place.
All open businesses and services will have until 11:59pm Friday 7 August to enact a COVID Safe plan focused on safety, prevention and response in the event that coronavirus is linked to the workplace.
Industries that are permitted to operate such as food production, waste collection and supply chain logistics may continue to do so under 'significantly different conditions'. Industries that are unable to close but where clusters of cases have spiked will have to implement safety restrictions, including mandated reductions to the number of workers onsite. As an example, abattoirs in Melbourne and across the state will need to scale back their essential workforce to two-thirds.
Workplaces that will continue to operate may do so under a tougher set of rules including including extra Personal Protection Equipment (PPE), staggering shifts, staggering breaks, health declarations and more support for sick workers to ensure they stay home.
Meanwhile establishments selling essential items, including supermarkets, grocery stores, bottle shops, pharmacies, petrol stations, banks, news agencies, post offices and everyone involved in frontline response will continue to operate.
"These changes will be enforceable. And the onus will be on employers to make sure they're doing the right thing by their workers, including ensuring those with symptoms — and potentially the virus — do not come to work," said Mr Andrews.
"As always, this work will be done in consultation with industry and with unions."
Victoria has recorded 429 new cases of coronavirus and 13 deaths since yesterday, with the total number of cases now at 11,937.
Meanwhile the Federal Government has committed to a $1,500 "disaster payment" for paid pandemic leave for workers in Victoria who need to self-isolate but do not have sick leave or payments through JobKeeper or JobSeeker.
Prime Minister Scott Morrison said people who are meant to be self-isolating do not have a reason to go to work.
"That means that for those who need to self-isolate as a result of an instruction by a public health officer, there is no economic reason for you to go to work," Mr Morrison said in his address. 
The payment will become available to workers in other parts of Australia if a disaster is declared, as it has been in Victoria. Workers in the state would be able to apply for the payment over the phone from Wednesday.
Image: Screen grab from Daniel Andrews media conference
---
Disclaimer: Please visit the Department of Health & Human Services for more accurate and up-to-date news and information on this announcement and how it affects any particular business, sector or industry.