The Federal Government and the Australian tyre industry have joined forces to seek out a functional and useful solution for the 50 million tyres that are being discarded domestically each year.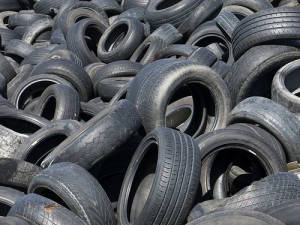 To that end, Federal Environment Minister Greg Hunt has launched the voluntary Tyre Stewardship Australia (TSA) scheme to explore new uses of old tyres and lay the foundations for a new industry that will aim to improve recycling processes and reduce unsustainable disposal practices.
Most of the old tyres are exported or end up in illegal dumps that frequently catch fire and emit toxic fumes, and only 16% of the chunk is recycled, reports CarAdvice.
The country's tyre industry is polarized over the matter, with half-hearted support from some of the biggest retailers and environmental groups. However, the initiative is supported by the Australian Tyre Industry Council (ATIC) which includes importers such as Goodyear, Dunlop, Pirelli, Michelin and Yokohama.
According to the article on the Sydney Morning Herald, Boomerang Alliance, a network of 27 environmental groups, has singled out several of the group's members for failing to require member outlets.
The Secretary of the Tyre Industry Council, Silvio de Denaro, rejected demands that retailers use only accredited recyclers labeling them as "extremely hollow" since many of the tyres get exported unprocessed.
"In this market, there are not sufficient users of the output of so-called reputable recyclers," said Mr de Denaro.
Bridgestone, Australia's biggest retailer is not a member of the ATIC and their stance on the matter is that all discarded tyres go to recyclers who are members of the Australian Tyre Recyclers Association.
The company's managing director Andrew Moffatt said Bridgestone welcomed the stewardship plan but needed to resolve some "administrative issues" before signing on.
Firms signing up for the stewardship are to pay 25 cents per tyre to fund research aimed at developing ways for useful handling of the waste product, as well as reducing the environmental, health and safety impacts of the millions of old tyres.
Tyre Recyclers Association Chief Executive Officer Robert Kelman said retailers choosing his group members "can be assured of legal compliance".
"Unfortunately, there remain large retailers and importers that continue to use cheap, dodgy and unlicensed operators," he said.