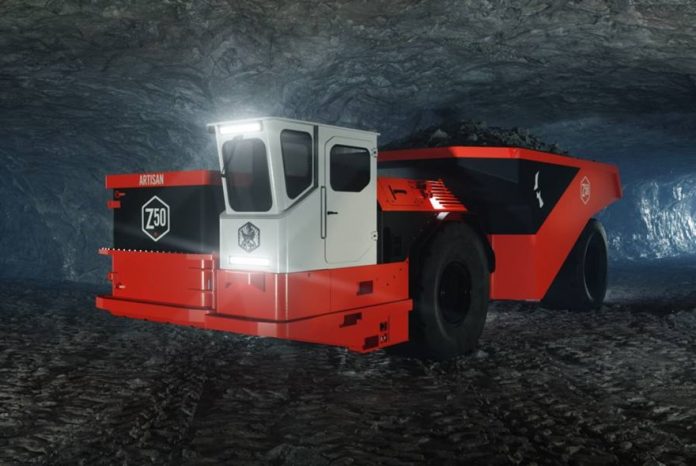 Swedish multinational engineering company Sandvik and mining company Barrick have signed a partnership agreement for trialling and enhancing Battery Electric Vehicles (BEVs) for underground hard rock mining.
The three-year production trial will see Sandvik deploy four Artisan Z50 BEV trucks at the Turquoise Ridge gold mine, part of the Barrick-operated Nevada Gold Mines joint venture (JV) – the single-largest gold-producing complex in the world.
Sandvik said the Z50 haul truck, with a 50-tonne (55-ton) payload capacity, is a ground-up design that seamlessly integrates the most capable and proven battery electric powertrain available in the mining industry with the latest and most coveted features of any haul truck on the market today.
"The Z50 truck is equipped with AutoSwap, a patented self-swapping system for the Artisan battery pack," the company said in a statement.
"Battery swapping is made fast and easy with a minimum amount of manual handling: changing the battery only takes about six minutes, and it can be done in a passing bay or old re-muck bay with no overhead cranes or external infrastructure needed.
"In phase 1 trials, the Z50 truck already achieved more than 1,400 hours of production with over 1,400 loads. It reached production operating up to 18 hours per day. Speeds of over 10km/h (6 mph) were also observed on the ramp to the tip."
Barrick's President and CEO Mark Bristow said the company is always on the lookout to improve its performance, both in terms of sustainability and operational efficiency.
"This partnership with Sandvik is exciting and will give us first-hand experience in BEV technology in our own production environment," Mr Bristow continued.
"It is a significant step to furthering our BEV strategy across the group."
Henrik Ager, President Sandvik Mining and Rock Technology, said he was very pleased that the two companies have teamed up to perform these extensive trials in a daily production environment.
"It gives us the possibility to prove the performance of our BEV technology," Mr Ager stated.
"The purely battery-powered truck helps to reduce heat and emissions underground, helping mines reach their sustainability targets and reduce ventilation costs.
"This raises the bar for what is possible and enables an all-new level of production and cost reduction for underground hard rock mines."
Image credit: https://www.rocktechnology.sandvik/