Quickstep has successfully delivered the first shipset of C-130J wing flaps to security and aerospace company Lockheed Martin ahead of schedule.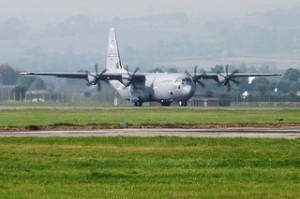 Quickstep announced in a statement today that it has completed the delivery of the first of 24 shipsets of wing flaps, which they would manufacture under an initial US $12 million purchase order included in the memorandum of agreement they signed with Lockheed Martin last December.
The MOA is valued at $75 million and gave the carbon-fibre composites manufacturer the opportunity to produce wing flaps for the C-130J Super Hercules aircraft. Under the agreement Quickstep will deliver at an approximate rate of two shipsets per month.
The Lockheed Martin C130-J wing flaps program is one of the two major aerospace contracts awarded to Quickstep, which is also producing components for the F-35 Lightning II Joint Strike Fighter program.
Quickstep Managing Director Philippe Odouard said the first delivery ahead of schedule marks an important milestone for the company and demonstrates their ability to manufacture high-volume carbon-fibre composites for complex international supply chains.
The company has also secured a second purchase order under the MOA valued at $9.8 million which covers manufacture and delivery of a further 12 shipsets beginning in the first half of 2015.
"We are delighted to receive a further purchase order from Lockheed Martin, which is a cornestone client for us. This provides greater certainty for Quickstep. Over the life of the agreement, we will supply 120 shipsets of carbon-fibre flaps through 2018," said Mr Odouard.