German industrial design company GESA is a leading designer and manufacturer of sales displays for world renowned cosmetics firms such as L'Oréal, Procter & Gamble and Coty.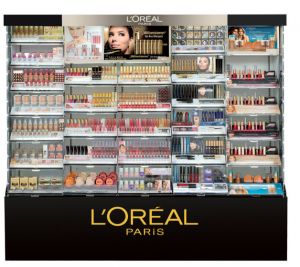 GESA's flexible operational approach enables it to meet the demands of its various clients through timely delivery of orders which vary from individualized pieces for flagship stores to as many as 15,000 pieces for the mass market.
Seeing as the beauty product business operates within very tight schedules and new products appear every quarter, it is of the utmost importance that these products are in the shops in time along with the correct sales displays. In order to remain competitive, the company's internal structures have to be extremely lean and integrated on all levels.
Different clients require different designs, and in order to achieve customer satisfaction GESA optimizes its designs through the use of a cutting-edge 3D computer-aided design (CAD) systems.
In the past, each department in GESA used a different CAD system, from design through technical drafting and mold construction, which resulted in loss of time due to the lack of consistency, as each department created its own drawings from scratch. Now, the company uses standardized CAD structure which makes for much smoother operational performances.
"We had a mixed CAD situation with a large number of redundant drawings at different stages. That had to change," says Rolf Scholz, Head of Engineering at GESA.
Because of the lack of interface to the various 3D systems in use, the company initially struggled to deliver the wanted levels of quality in an acceptable timeframe. Realizing that it was time to convert to a 3D CAD system, the company found the answer in the form of PLM Software Solid Edge®.
According to the article on Siemens PLM, Solid Edge provides a number of advantages over its peers, including its tight integration with the Siemens numerical control systems for the laser and 5-axis milling machines used in the mold making departments at GESA.
"We are great Siemens fans," says Scholz. "We now have a uniform, integrated system that saves us substantial amounts of time."
The software's 3D capabilities and the STEP interface also helped improve interaction with clients, as they enable exportation of entire modules which greatly simplifies the data exchange process.
Further, Solid Edge makes it easier to change over from 2D to 3D design, offering comprehensive and practical aids that enable 3D elements to be added and processed step-by-step based on 2D drawings.
"Of course, many of us were sceptical at first, including myself. But now I definitely wouldn't want to be without Solid Edge, because of its many advantages," says Kerstin Buchholz, designer at GESA.
The use of Siemens PLM Software technology will further improve the level of flexibility and speed already achieved by GESA's design team.
"Without the capabilities Solid Edge provides us, we would certainly not have won some of our projects," says Scholz.