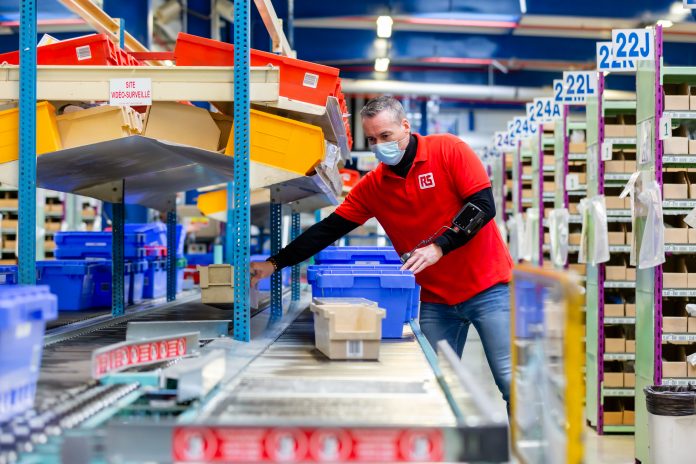 Article by Scott Philbrook, Managing Director,
RS Components, Australia & New Zealand
The pandemic served as a hard reset for businesses and manufacturers, putting to light vulnerabilities in manual processes and prompting the transformation of legacy systems. For essential services, having digital capabilities, a robust supply chain, and empowered employees, boosts their ability to help a world in distress.
Suppliers, vendors, and distributors working behind the scenes to support critical industries similarly had to rethink strategies to return to business as usual. As economies went into lockdown and cities imposed movement restrictions to contain the virus, RS Components quickly shifted ways of working across our local teams in Australia and New Zealand, including our trade counter and distribution centre in Sydney, to ensure we had the capability to continue serving consumers across the medical, manufacturing, and food and beverage sectors. Ensuring reliable access to an extensive range of products and solutions for customers was top of mind, and this was made possible through our interconnected global distribution network and flexibility of employees.
While the pandemic reaffirmed the benefits of digital transformation and supply chain resilience, it also emphasised the importance of connecting on a personal level to deliver reliable customer experience and build trust. Using technology to enrich the way we serve and interact with customers helped RS foster stronger relationships in spite of the very tough and erratic business climate in 2020.
Leveraging tech to improve customer relationships
Businesses needed to automate production lines and tap Industry 4.0 to future-proof their operations. Simply adopting technology would not suffice. Businesses and brands must also consider the significant role of people in problem-solving and improving customer satisfaction.
For instance, when a huge spike in global demand made it difficult for companies to purchase PPE, an Australian food manufacturer approached us to urgently assist in sourcing PPE for staff delivering food and work from home equipment to fellow employees with COVID-19 symptoms. Searching through our extensive online product portfolio and supplier network, sales and sourcing teams – who were also working from home – quickly found a local supplier able to provide PPE coveralls to more than 6 sites across the country and helped the customer to maintain business continuity.
In New Zealand, a local customer specialising in medical equipment production needed cables for the production of ventilator harnesses. As with PPE, supply was also low due to increased demand for medical parts. We leveraged our global distribution network to source for critical parts, and collaborated with the customer to overcome delivery challenges brought by transport disruptions worldwide. For 4 days, our team remained in close contact with the customer to explore alternative approaches and ensure a smooth delivery, helping the customer avoid manufacturing delays.
With the help of technology, people skills like teamwork, issue resolution, and creative thinking will enable businesses to achieve efficiency and offer a higher quality of service.
Understanding customers and the community
When it comes to finding the right business partner, essential services need a broad-range supplier with specialist knowledge, who can introduce value-adding competencies to their operations and harness technology with a human touch. With the unpredictable market landscape today, human connections and actions facilitated by digital technology helps businesses manage curveballs and make forward-looking strategic decisions.
RS sales and sourcing teams develop insights from website purchasing data and customer feedback to create a personalised experience for manufacturing clients. Understanding the customer's business and industry trends enables RS to present relevant and individualised offerings based on unique operational requirements and timelines. This saves time and energy for customers and procurement specialists in a rush to procure multiple products. This also builds efficiency across the value chain, making transactions simpler and quicker – traits highly valued by those in critical services.
Having highly engaged and motivated staff can also push companies to be more proactive and better anticipate customer needs. For instance, when a design engineer's prototype is ready for mass production, our teams work directly with the customer over the phone and email to check the compliance status of required components, consolidate high-volume purchase orders to save on costs and reduce errors, monitor delivery, and provide after sales support if needed. By integrating human touch into the purchasing process, teams take ownership of issues when disruptions occur.
Businesses also nurture stronger relationships by helping communities prepare for future disruptions. 2020 also saw a wave of deadly bushfires in Australia. As communities worked on rebuilding and strengthening capabilities to handle future incidents, RS donated over AUD$4000 worth of products, like thermal imaging cameras and equipment to various volunteer fire brigades across Australia and New Zealand. These tools enable fire service teams to perform their duties safely and efficiently.
Adding a personal touch creates more trust in brands and businesses, influencing repeat purchases in the future and attracting future customers who share the same values.
Getting back to business
The effects of the pandemic will be felt in years to come and businesses must be prepared for uncertainties across sectors. As many lean on technology for business recovery and growth post-COVID, it is important not to disregard the element of human relationships. Striking the perfect balance between technology and human touch requires strong insight into what your customers, employees, and business need to grow in an unpredictable environment.