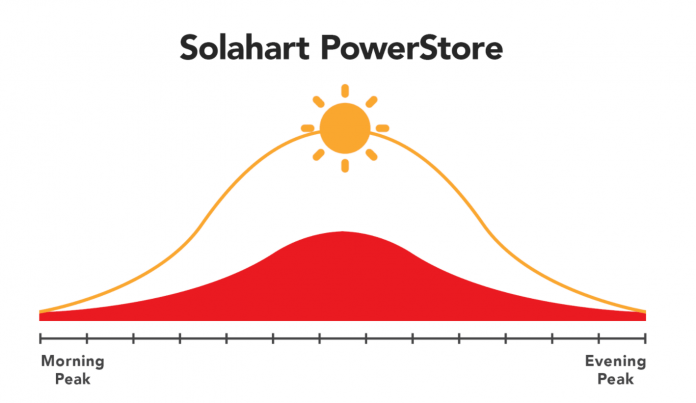 Rheem Australia's renewables brand, Solahart, has secured almost $4 million in funding from ARENA and the South Australian Government to carry out a project aimed at reducing energy use for hot water systems at peak times to help manage grid stability and lower costs.
The Active Hot Water Control project will see Solahart conduct a trial on approximately 2,400 residential hot water systems in South Australia that will utilise off-peak power, reducing reliance on the energy system at peak times.
The project will integrate Solahart Powerstore – a solar smart, grid interactive, electric water heater – with a home energy management system to demonstrate a low-cost, scalable way for hot water systems to provide demand management services.
As part of the project, a Virtual Power Plant (VPP) will be established to aggregate the electrical load of hot water heaters, curb electricity usage at peak times or provide network services to the grid.
Hot water systems are significant users of energy at peak times and under the trial hot water systems will draw on the abundant solar energy available outside of peak demand to heat water.
ARENA CEO Darren Miller said the trial will investigate how this can help to bring down costs, stabilise the grid at the evening peak and make use of excess solar energy during the day.
"As more of Australia's electricity comes from solar, we need to increasingly shift more of our energy consumption to daylight hours when solar PV is generating, rather than at night when solar isn't available," Mr Miller said.
"Hot water heating is a major source of household energy consumption. While it was once most efficient to heat water at night, now low cost surplus electricity is increasingly available during the middle of the day.
"We need a way to know when this surplus power is available, and smart technology to manage electricity consumption at times when it will be the lowest cost to consumers without any loss of amenity."
Minister for Energy and Emissions Reduction Angus Taylor said the project will help South Australia to maximise the use of renewables in the grid, reducing pressure on the electricity system.
"Solar power can only be used when the sun is shining, which is why we need to find more ways to use it when it's available to stop it going to waste," he concluded.
Image credit: https://www.solahart.com.au/