Australian precision engineering company Marand is preparing to unveil the first Australian made F-35 Lightning II vertical tail at the company's facility in Melbourne on Monday, March 31.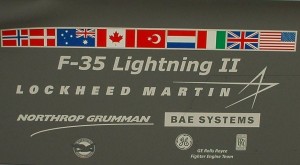 According to the media release by Lockheed Martin, the vertical tail work was subcontracted to Marand by BAE Systems and is one of the largest planned manufacturing projects for the F-35 in Australia, with 722 ship sets anticipated.
In addition, Lockheed Martin's F-35A Lightning II full-scale mock-up will also be showcased in the Marand facility car park, where media representatives will have the opportunity to sit in the cockpit for video and photos. The Pratt and WhitneyF135 engine model will also be displayed on the Australian built engine trailer also manufactured by Marand.
The F-35 Lightning II aircraft will deliver significant benefits to the Australian aerospace industry, with more than $350M (USD) already contracted and $6B (USD) in expected manufacturing orders over the life of the program.
The F-35 Lighting II aircraft is the world's most advanced military aircraft which will provide the country's Air Forces with a transformational 5th generation fighter capability and will significantly bolster the Royal Australian Air Force combat readiness and defensive capacity.
Marand, BAE Systems and Lockheed Martin program experts, government and other officials will be available for exclusive interviews regarding the F-35 immediately following the ceremony.
Marand is a privately owned Australian company with long-lasting international business ties and relations. The company is a leading supplier to industry of high-quality precision tooling, machine tools and highly engineered automated production solutions, with great experience in most key manufacturing industries, including automotive, aerospace, defence, mining, aviation, rail, food processing, white goods and general manufacturing.