CHEP Australia announced that its new FMCG (Fast Moving Consumer Goods) Retail Display Pallet developed in collaboration with manufacturers and retailers for the FMCG retail supply chain is now available for purchase.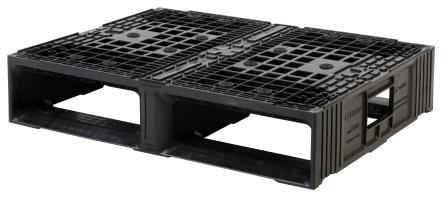 According to the media release by Chep, the company's next generation small footprint retail ready display pallet represents a significant improvement on its first generation retail display pallet pool, delivering a new level of efficiencies and benefits.
Developed to fit the majority of manual handling equipment used in Australian FMCG supply chains, the new FMCG Retail Display Pallet features anti-slip technology for increased safety, additional rubber grommets on the top deck to minimize load movement and provide better load containment, as well as rubber grommets-fitted fork lift entry points to ensure the display pallet doesn't slip off fork tines while in transit.
"We put the pallet through rigorous testing to achieve a maximum fork entry width of 735mm on the same footprint. This design achievement means most manufacturers and retailers can integrate the display pallet into their operations without the need for any capital investment," Business Development Manager, Frank Vittoria, said.
The team that designed the pallet also looked to incorporate the new display pallet into existing racking infrastructure, which resulted in the development of a "racking cradle" that enables display pallets to be racked and is also compatible with CHEP's timber pallets, giving warehouse managers the convenience and flexibility of racking the new display pallet or timber pallet within the same infrastructure.
"We conducted tests in accordance with ISO standards to ensure that the FMCG Retail Display Pallet could be beam racked under load at elevated temperatures, and the results were positive," Mr Vittoria said.
The list of improvements which the new FMCG Retail Display Pallet offers when compared to its predecessor includes: reduced risk of product damage through one-touch movement from manufacturer to retail floor; outstanding display properties and ease of replenishment; compatible with existing transport infrastructure, fitting three pallets across a standard truck tray when loaded "landscape" and four pallets when loaded "portrait"; compatible with a range of secondary shelf ready packaging; modular to CHEP's beverage trays and reusable plastic crates; immune to contamination from bacteria and pests; non-porous surface; no nails or splinters; lightweight at only 8.3kg.