Toyota is planning to turn a new page with its Yaris model, as the company announced it will upgrade the Yaris hatch and release it as a five-door model to Australian buyers in September this year.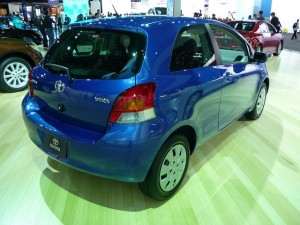 According to the media release by Toyota, the revised Yaris will offer greater emotional appeal and will feature the company's signature front-end design, full-width upper grille that extends into new triangular headlamps and a deeper front bumper with a large trapezoidal lower intake, thus incorporating all key elements of Toyota's "under priority" theme that is being introduced progressively across the range.
Toyota Australia Executive Director Sales and Marketing Tony Cramb said the move to revise Yaris solely as a five-door model had been driven by customer demand, who wanted a more contemporary "family look and feel", evident in cars like the Corolla hatch and sedan.
"Five-door hatches have gained in popularity and now contribute close to 90 per cent of total sales in the light-car segment. Customers are telling our dealers they love the compact size of Yaris while also wanting the flexibility of having two extra doors. Easier access to the back seat is important for owners who regularly carry more than one passenger – particularly families with children," Mr Cramb said.
"It also offers greater convenience for young singles, couples and empty nesters who are often joined by their friends. This strong customer preference has resulted in a significant shift in the market with three-door sales in this segment falling from around one-quarter of total demand in 2008 to single digits last year. During the same period, sales of five-door hatches have grown from two-thirds of total demand and now represent almost nine out of every 10 sales."
The upgraded Yaris range also features new wheel designs, revised rear styling including new tail lamps and a higher-quality interior with an available Toyota Link multimedia information system.
Yaris is the fourth highest selling Toyota passenger car in Australia, with cumulative sales of over 181,000 units since it was introduced on the market back in 2005.