Local shipbuilders could lose the lucrative Air Warfare Destroyer (AWD) project to overseas contractors if they don't' speed up the building process, the Federal Government said.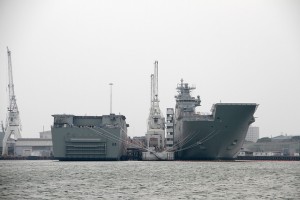 According to the article on Yahoo, the $8.5 billion AWD project is running almost two years behind schedule and costing $360 million more than originally anticipated, with shipbuilders performing well below international standards of 60 man hours per tonne.
The Government has devised a remediation plan to get things up to speed, which includes immediate insertion of an experienced shipbuilding management team into prime contractor, the government-owned ASC.
Construction of ship modules will then be re-allocated among three firms doing this work.
"This is a final opportunity to get this right — there's no two ways about it," Senator Cormann told reporters in Canberra on Wednesday.
Defence Minister David Johnston warned that failure on the AWD project would likely mean that local companies will be overlooked for future projects, such as the project for building eight new vessels to replace the Navy's Australian-made Anzac frigates.
"I don't believe the government will support an enterprise that cannot deliver productively," he said.
A review conducted by former US Navy Secretary Don Winter identified a range of problems including inadequate management and contractor performance. Under contract arrangements, cost over-runs are met half from Defence and half from final success fees to contractors.
Senator Cormann confirmed the commonwealth and taxpayers would face some costs.
"We will seek to minimise whatever exposure there is for the government and for the taxpayers," he said.
The AWD Alliance involves three parties, the Defence Materiel Organisation (DMO), Raytheon Australia and the Government-owned but commercially operated ASC Pty Ltd.