Additive manufacturing solutions provider Arcam has announced the launching of a nickel base superalloy process for additive manufacturing with Arcam's EBM Systems — the Inconel 718.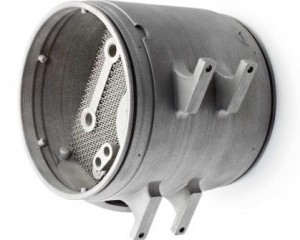 In the Arcam EBM® process, fully dense metal components are built up, layer-by-layer, of metal powder melted by a powerful electron beam, following a precise CAD model. Taking place in vacuum and at high temperature, the Arcam EBM process results in stress relieved components with the best possible material properties. The EBM process is basically tool-less manufacturing that allows for unlimited freedom of design, high productivity and opens up an opportunity to produce light-weight parts with minimal lead time and cost.
According to the company's news release on the Business Wire, the process for Inconel 718® is now available solely for the Arcam A2X platform which was designed to process titanium alloys as well as materials that require elevated process temperatures.
"With the introduction of the Inconel 718 our customers in the aerospace industry can now further expand the range of components that they produce in their EBM machines," said Magnus René, Chief Executive Officer of Arcam.
Tests were conducted at the US Department of Energy's Manufacturing Demonstration Facility at Oak Ridge National Laboratory. Parts made in the new process are currently showcased at the Rapid conference in Detroit, MI, 10–12 June 2014.
The material properties comply with chemical requirements of UNS N07718 and properties of ASTM F3055-14 specification.
INCONEL® is a registered trademark of Special Metals Corporation.
For further information about Arcam, please visit www.arcam.com