RS Components and Allied Electronics, the trading brands of global distributor for engineers Electrocomponents plc, have announced that the next-generation Raspberry Pi 2 credit card-sized single-board computer from the Raspberry Pi Foundation is now available to order at www.rs-online.com and www.alliedelec.com.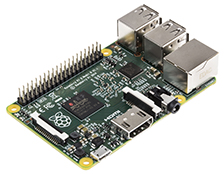 The new Raspberry Pi 2 Model B has significantly upgraded capabilities compared to previous models, delivering more than six times the processing power and twice the memory than the company's first generation Raspberry Pi Model B+.
Targeting consumers, businesses and educators, Raspberry Pi 2 incorporates the Broadcom BCM2836 application processor, containing a powerful ARM Cortex-A7 quad-core CPU running at 900MHz.
According to the press release by Electrocomponents, the board layout, multimedia subsystem and peripherals remain fully compatible with the Raspberry Pi Model B+, including the use of the extensive 40-pin GPIO (General Purpose Input Output) connector, four USB ports and an efficient switching power supply.
The company said that the increased computing power and memory capacity of the Raspberry Pi 2 will allow hobbyists, hackers and home developers to develop more powerful applications that will run faster. Moreover, OEMs will also be able to benefit from the new board's greater processing capacity as well as the Raspberry Pi platform's record of reliability and robustness.
"RS and Allied are a trusted and reliable source of products, technologies and information for engineers, hobbyists and developers worldwide. The first generation Raspberry Pi platform has been widely adopted by many users in academic and consumer circles, and has also found use in industrial applications, where RS and Allied have played a very important role," said Eben Upton, founder and trustee of Raspberry Pi.
"The company's DesignSpark community and the extensive range of free DesignSpark product-design software tools are connecting students, users and engineers from many domains around the world. The RS and Allied approach of providing key resources for software and hardware development complements the goals of the Raspberry Pi Foundation, and we look forward to the continuation of this highly fruitful relationship."
Glenn Jarrett, Global Head of Marketing at RS Components, said those involved in educating the next generation of young programmers will also take notice of this highly capable new board.
"The low-cost Raspberry Pi platform has proved to be a revolutionary tool in delivering programming to a whole new universe. RS and Allied have been honoured once again to have the opportunity to work with the Foundation as a distribution partner for this exciting next important step in the evolution of the Raspberry Pi platform."
The new Raspberry Pi 2 offered by RS and Allied is manufactured exclusively in the UK, under licence by the distributor.