Tasmanian shipbuilder Incat has won a major contract to build four new ferries for the Manly ferry route in Sydney.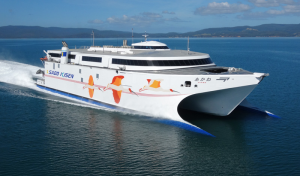 According to the ABC, the Hobart-based catamaran builder will build two 24-metre fast catamarans for passengers within the harbour and two 33-metre ferries capable of going beyond the Sydney Heads for whale watching.
Incat chairman Robert Clifford told the ABC that construction work on the four new ferries will begin immediately.
"The early work is going ahead now preparing the site to set the boats up. Metal will be cut during the week and fabrication will begin by the end of next week," he said.
"This is the beginning of what I think will be quite a lot of work. There is no doubt that the manufacturing industry in Tasmania, shipbuilding in particular, is alive and well and there is no reason why we cannot compete with the rest of the world."
Tasmanian Premier Will Hodgman congratulated Incat on winning the contract, saying it would generate more job opportunities and further enhance the company's reputation as a world class boat builder.
"It's a wonderful advertisement for Tasmania's maritime manufacturing sector and a tribute to Incat that its iconic vessels will soon be plying Sydney Harbour, carrying thousands of passengers daily," Mr Hodgman said.
"Combined with the growing employment numbers, record levels of retail trade, a tourism boom and a strong construction sector, this announcement adds to the growing sense of optimism and confidence in Tasmania."
Incat is a manufacturer of large high-speed craft (HSC) catamarans, based in the Derwent Park suburb of Hobart, Tasmania. The company – which employs 300 workers at its Hobart shipyard – builds large commercial and military vessels that use aluminium construction, wave-piercing and water-jet technology.