GE announced a $25 million investment in US renewables pace-setter SunEdison yieldco, TerraForm Global.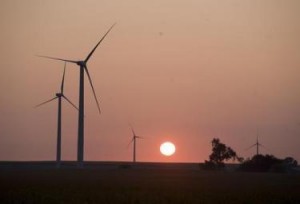 The investment marks GE as the first wind manufacturer included in SunEdison yieldco IPO financing since it was floated on the NASDAQ stock market in 2014.
TerraForm Global is a dividend growth-oriented company, or 'yieldco,' formed by SunEdison to own and operate contracted renewable power generation assets in emerging markets.
"This investment is about driving continued global growth for renewable power," said Anne McEntee, president & CEO of GE's renewable energy business.
"Together with SunEdison, we will significantly increase wind developments in key growth regions like Latin America, Europe, India and China."
The agreement is expected to help support new wind pipeline opportunities for TerraForm, with GE providing life-cycle operations and maintenance support for TerraForm's wind fleet.
SunEdison is the world's largest renewable energy development company.
Last Tuesday, the company announced that it had acquired Globeleq Mesoamerica Energy (GME), Central America's leading renewable energy company.
"The acquisition of GME strengthens SunEdison's leadership position in the global wind energy market and significantly expands our presence in Central America, a region that offers growth opportunities for our emerging markets development platform," said Ahmad Chatila, SunEdison president and chief executive officer.
"With this acquisition we not only gain an experienced and talented management team with a proven track record in the region, but also position ourselves to accelerate our performance and deliver attractive returns to our shareholders."