Global security and aerospace company Lockheed Martin is set to consolidate its position as the world's largest military contractor with the $9 billion acquisition of Sikorsky – the maker of Black Hawk military helicopters.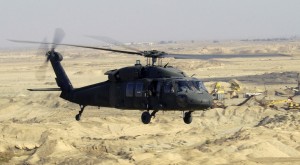 According to the company's press release, the transaction is subject to customary conditions and securing regulatory approvals, and is expected to close by late fourth quarter 2015 or early first quarter 2016.
Marillyn Hewson, Lockheed's Chairman, President and CEO, said the acquisition of Sikorsky will strengthen the company's position in the military helicopter business and open key foreign markets for the arms manufacturer.
"Sikorsky is a natural fit for Lockheed Martin and complements our broad portfolio of world-class aerospace and defence products and technologies," Ms Hewson said, adding that the transaction will have no impact on Lockheed's previously stated commitments to return cash to shareholders through dividends and to reduce outstanding share count to below 300 million shares by the end of 2017.
"I'm confident this acquisition will help us extend our core business into the growing areas of helicopter production and sustainment. Together, we'll offer a strong portfolio of helicopter solutions to our global customers and accelerate the pace of innovation and new technology development."
Lockheed, which makes the F-35 fighter jet, as well as government satellites and naval ships, said it plans to align Sikorsky under the Lockheed Martin Mission Systems and Training (MST) business segment.
The company also said it will conduct a strategic review of alternatives for its government IT and technical services businesses, primarily in the Information Systems & Global Solutions business segment and a portion of the Missiles and Fire Control business segment. The strategic review of both segments, which employ more than 17,000 workers, is expected to be concluded by the end of this year.
"As global security market dynamics shift, this review will strengthen our competitive posture, enabling sustained, profitable growth and positioning Lockheed Martin to deliver value for customers, shareholders and employees," Ms Hewson said.