The new $168 million ANSTO Nuclear Medicine (ANM) facility at the Lucas Heights campus of Australian Nuclear Science and Technology Organisation (ANSTO) is well underway and will soon supply potentially life-saving medicine to the whole world.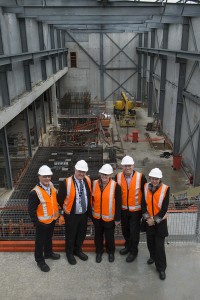 The facility is set to begin operating at the end of 2016, with full scale ramp up expected throughout 2017.
The project is jointly delivered by ANSTO and a number of providers, while Watpac Limited (Watpac) is in charge of the design and construction after winning the $83 million contract in 2014.
ANSTO CEO, Dr Adi Paterson, said the ANM facility is an example of how Australia is helping boost the worlds' access to reliable sources of nuclear medicine.
"To give an idea of the project scale – this year ANSTO celebrated the fact that since 2008 our existing facility has produced four million doses of nuclear medicine for domestic supply. Once this facility is operational and running at full scale – we estimate we will be producing more than 10 million doses a year, which is more than a quarter of the world's demand," said Dr Paterson.
"And that medicine will be produced with Low Enriched Uranium, contributing significantly to both international health systems and Australia's nuclear non-proliferation goals."
Watpac Managing Director, Martin Monro, said that Watpac is "proud to be part of a project instrumental to saving lives."
"We are privileged to be working with ANSTO to deliver an important project for the scientific and health industry not only in Australia, but also the world," Mr Monro said.
"Our team has a solid track record in the design and construction of leading health infrastructure and we are excited to see this latest milestone make a significant step towards completion of what will be a world-class facility."
In a media release to Australian Manufacturing, ANSTO also said that it is very close to significantly increasing production of the radioisotope molybdenum-99 (Mo-99), which becomes a medicine called technetium-99m (Tc-99m).
"That nuclear medicine is used in hospitals and medical centres for diagnosis of cancers and heart disease, and helps better understand treatments for conditions such as Parkinson's and Alzheimer's. One in two Australians will benefit from a nuclear medicine procedure at some point in their lifetime. It is used to diagnose and treat a variety of life-threatening illnesses," ANSTO said.