Alcoa is encouraging the Geelong community to provide suggestions to help shape Alcoa's Master Plan for its 575 hectare site at Point Henry.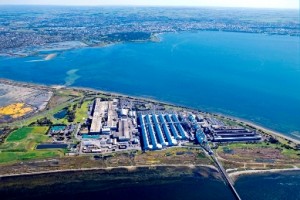 Alcoa has launched a community engagement program which the company said will provide community and stakeholder input into creating a Shared Vision for the future look of the site.
"The Shared Vision will incorporate themes that become the key guiding principles for the creation of the Master Plan for the site," said Alcoa Director of Asset Planning and Eastern States John Osborne.
"As most people are aware, the decommissioning and remediation of the 575 hectare Point Henry site is already underway. In parallel with the environmental site assessment and decommissioning activities, Alcoa has commenced long-term land planning for the site."
Alcoa's Point Henry aluminium smelter and rolling mill have been part of the Geelong community since 1963.  Last year, the company announced that it will close both the smelter and the rolling mill after a comprehensive review found that the facility had no prospect of becoming financially viable.
Mr Osborne said the successful rehabilitation of the site would benefit both Alcoa and the wider Geelong community.
"A good master plan makes sense. It acknowledges both the opportunities and the constraints of the land, and considers community and stakeholder aspirations," he added.
"Alcoa is pleased to continue its long history of engaging with the Geelong community. We firmly believe that through the creation of a Shared Vision for Point Henry 575, we can achieve an outstanding outcome for Alcoa, Geelong and the region."
Alcoa sad the entire process, including physical decommissioning, the environmental remediation plan and long-term land use planning, will take between 3 to 5 years to complete.