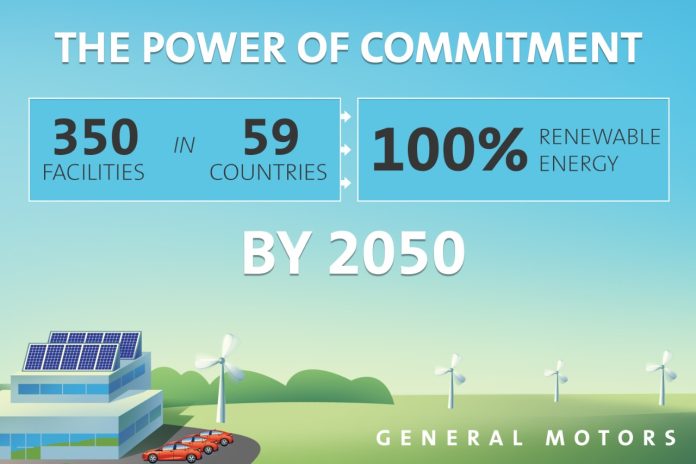 Global automaker General Motors (GM) has pledged to power all of its 350 operations across 59 counties with a 100% renewable energy by 2050.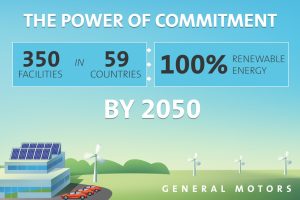 This ambitious goal, coupled with the company's pursuit of electrified vehicles and efficient manufacturing, forms an important part of GM's threefold strategy to strengthen its business, improve communities and combat climate change.
"Establishing a 100 percent renewable energy goal helps us better serve society by reducing environmental impact," said GM Chairman and CEO Mary Barra.
"This pursuit of renewable energy benefits our customers and communities through cleaner air while strengthening our business through lower and more stable energy costs."
GM's vast industrial apparatus consumes huge amounts of energy to operate at peak capacity. Last year, the company required 9 terawatt hours of electricity to power its operations around the world.
To lower its environmental footprint and cut energy costs, GM has invested in a number of renewable energy initiatives over the years that save it approximately $5 million each year.
Amy Davidsen, North America executive director at The Climate Group, described GE's new renewable energy commitment as a "bold and ambitious" move that was certain to catch the attention of carmakers worldwide.
"GM has already saved millions of dollars by using renewable energy, and like any smart business that recognises an investment opportunity, they want to seize it fully," she added.
"We hope that through this leadership, other heavy manufacturing companies will be inspired to make the switch too."
GM has pioneered the use of renewable energy for more than 20 years, saving tens of millions of dollars in the process. The company anticipates that savings will increase as more of its renewable energy projects come online and as costs to produce clean energy continue to decrease.
GM is waiting for two new wind projects to come online later this year and is also in the process of adding 30 megawatts of solar arrays at two facilities in China. It has a total of 22 facilities with solar arrays, three sites using landfill gas and four that will soon benefit from wind.
Moreover, GM's electric vehicle battery expertise places it in a unique position to meet the 100% renewable energy target by 2050.
"Energy storage can ultimately address the intermittency or reliability of wind and solar energy," the company said in a statement.
"GM is now using Chevrolet Volt batteries for energy storage at its Milford Proving Ground data centre office."
GM is a member of RE100, a global collaborative initiative of businesses committed to 100% renewable electricity.