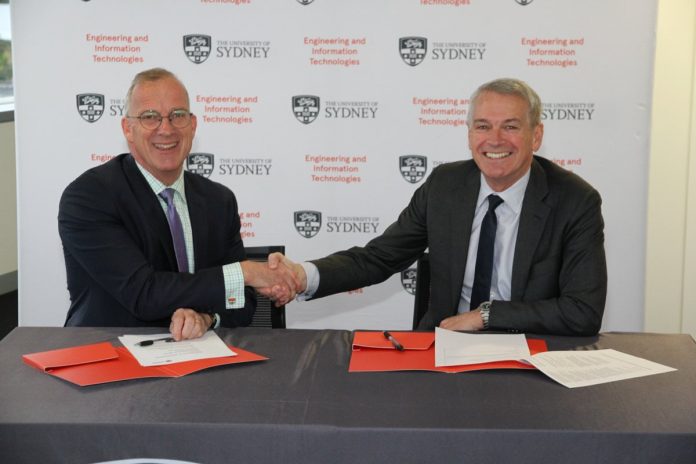 The University of Sydney has partnered with global technology leader Thales Australia to develop transformational industry projects in aerospace, defence, security and transport.
The two parties have signed a Memorandum of Understanding (MoU) earlier this week that will see them work closely together over the next five years to develop new technologies and capabilities in the areas of autonomous systems, artificial intelligence, data analytics, advanced sensing and processing, and materials science.
The MOU was signed by the University of Sydney Vice-Chancellor and Principal Dr Michael Spence and Thales Australia Country Director and CEO Chris Jenkins, who described the partnership as 'a significant milestone' in the company's history.
"Thales Australia's long-term relationship with the University has contributed to breakthrough technology in underwater sensing and Thales's sovereign capability in fibre laser sensors," Mr Jenkins said.
"Recognising the pace of innovation, especially in digital technologies like big data, machine learning and artificial intelligence, it is critical for Thales to partner with leading universities. The future applications of these technologies will require a holistic and integrated response, moving beyond individual disciplines and creating the next generation of careers and technological and industrial capabilities."
Dr Spence said the MoU provides the University's researchers with new opportunities to collaborate on transformational industry projects.
"We have made great gains in increasing our engagement with industry in 2017, which is a major priority in our 2016-20 Strategic Plan," he added.
"Thales has a long and established track record of successful collaboration with a number of academic institutions around the world and we are proud to partner with them formally."
Dean of the Faculty of Engineering and Information Technologies Professor Archie Johnston said the MOU expands the existing relationship between Thales and the faculty which notably included a 2015 Australian Research Council Linkage Project aimed at developing new ways to increase the effectiveness of underwater survey operations.
"By collaborating, exchanging ideas and sharing best practice with Thales, our engineering and IT researchers will gain new ideas about how to translate their research into practical solutions for industry," Professor Johnston concluded.