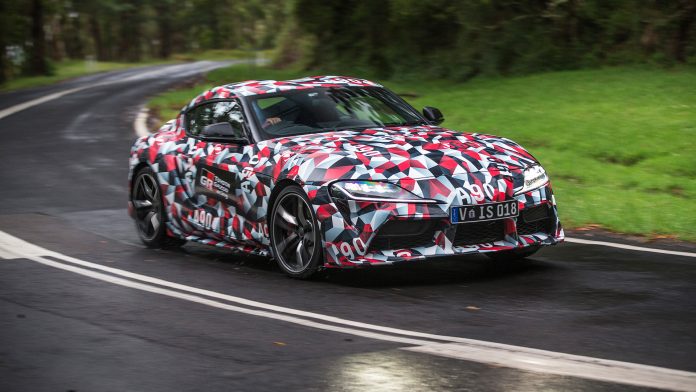 Toyota's next-generation Supra sports car has been put through its paces on Australian roads as part of a trial which aimed to determine whether the car's suspension tuning and dynamics are suitable for the local and world markets.
Supported by Toyota Australia's highly regarded vehicle engineering and development (VED) group, the five-day evaluation and suitability test involved areas that replicated 80% of the world's roads, including  sweeping country roads, twisty mountain climbs and the Great Ocean Road.
Chief engineer Tetsuya Tada said the trial aimed to confirm performance targets for Supra and ensure it would satisfy the dynamic preferences of local drivers.
"We know your drivers tend to favour strong levels of body control and steering feel, particularly for your undulating road surfaces," Mr Tada said.
"It's vital the driver feels confident during rough-road cornering and that the car is very stable under braking. Speedo accuracy is also very important.
"Working on aspects of handling and other details here in Australia allows us to make refinements that will result in a better car right up until production starts in the first part of next year."
Paul Diamandis, leader of the local VED Group, said the trial evaluated overall performance and driveability, ride, handling, stability, brakes, seat comfort and insulation from noise, vibration and harshness on coarse-chip bitumen and gravel.
"We've taken the Supra prototype across a variety of conditions including popular touring destinations because almost half the people we expect to buy a Supra list their number one hobby as holidays and travel," he said.
Toyota Australia's vice president sales and marketing Sean Hanley described the new-generation A90 Supra as 'the rebirth of a Toyota sports-car legend'.
"Supra is the halo model for Toyota sports cars and our new GAZOO Racing (GR) brand, heralding a new generation of stylish driver-focused cars with enhanced dynamics and performance," Mr Hanley continued.
"These cars, honed under the extreme conditions of motorsport, will demonstrate Toyota's commitment to ensuring everyone can enjoy the freedom, adventure and excitement of driving."
Image credit: https://www.toyota.com.au