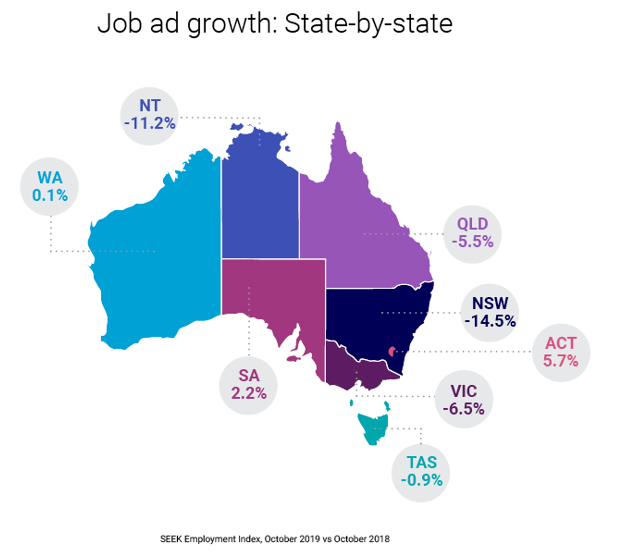 SEEK has released its latest Employment Report in October 2019, which revealed that Manufacturing, Transport & Logistics (+3.1%) was one of the industries showing the strongest average advertised salary growth, alongside Insurance & Superannuation (+4.0%) and Banking & Financial Services (+3.7%).
The SEEK Employment Report, which provides a comprehensive overview of the Australian employment marketplace, has found that overall job ads are down by 7.8%, with the average advertised salary up by 2.0% at an average of $88,614.
Community Services & Development saw the largest amount of job ad growth, with job ads up by 16.7%, followed by Healthcare & Medical (5.6%) and Education & Training (5.6%).
According to the report, the majority of states show an increase in average advertised salary with South Australia (3.6%), Queensland (2.8%) and Tasmania (2.4%) leading the way.
Commenting on these findings, Kendra Banks, Managing Director, SEEK ANZ said:
"Frontline social services continue to make the greatest contribution to job ad growth across Australia with Healthcare, Community Services and Education & Training the top-performing sectors," Ms Banks noted.
"In Healthcare there is a strong demand for aged care nurses; across the Community Services sector, there is a great demand for aged & disability support workers. Secondary school teachers remain in high demand.
"As in previous years ahead of the summer season, we see hiring activity for casual and vacation positions up compared to other months."
She said the Hospitality and Tourism Sector continues to offer many opportunities, with more than 11,000 jobs advertised in October, representing the greatest number to date.
"Encouragingly, year on year these roles are up 6%, with most of this growth coming from the Hospitality and Tourism Sector," Ms Banks continued.
"There is a broad range of jobs available from tour guides to waitstaff, to guest services and travel agents.
"Employers are preparing for the summer months as Australians make the most of the holiday season."
Image credit: https://www.seek.com.au/