Coca Cola Enterprises has ramped up their annual production lines in Germany by 20 million crates and is said to have cut costs, through employing Siemens automation.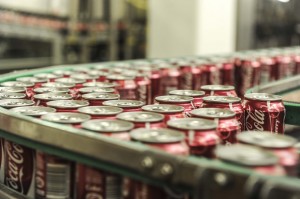 The standardised automation solution was implemented across the beverage manufacturers Sidcup, Germany location, and is said to be part of an agreement between both companies to set out a Europe-wide strategy of standardisation, with the aim to increase production, drive costs down and future proof the company's manufacturing operations.
"The Sidcup location processes the lar- gest range of packaging types of any CCE production plant anywhere in the UK, filling plastic and glass bottles as well as 150 and 330 milliliter cans, with plans to introduce 500 ml cans in the future. The new canning line with its capacity of 120,000 cans per hour will extend the plant's capacity by a further 20 million cases per annum. By im- plementing a standardization strategy based on the Optimized Packaging Line(OPL) concept, an industry initia- tive by Siemens, Coca Cola in Sidcup now relies on seamlessly automated and standardized production and pa- ckaging lines," Siemens.
Siemens revealed the totally Integrated Automation engineering framework, a common automation and communication standard, coupled with drives, programmable logic controllers and communication products like Ethernet switches come together to not only enhance the production efficiency of a manufacturing plant but also to reduce maintenance, spare part management and personnel costs.
The innovative standardised automation solution is set to allow Coca Cola Enterprises to adapt its operations more efficiently, and is capable of adjusting to future market changes. There is no word yet, if the European agreement will be implemented across the beverage manufacturers other global plants.