Minister for Manufacturing David Hodgett last week congratulated defence firm Thales on the delivery of its 1,000th Bushmaster vehicle to the Australian Government's Defence Materiel Organisation.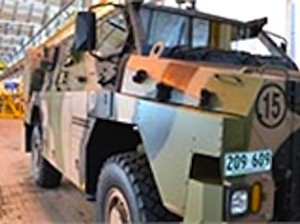 Based in Bendigo, Mr Hodgett toured the Thales facility where the Bushmaster –a predominantly used army vehicle – has been built since 2004.
"The Victorian Coalition Government is delighted that such a successful vehicle is manufactured in this state, and we greatly value the economic benefits that flow from work on the Thales Bushmaster," Mr Hodgett said.
The Bushmaster has been used by Australian troops in Iraq and Afghanistan, where according to Mr Hodgett it has saved lives and has been an invaluable part of daily service.
"In addition to the many local jobs and economic benefits Bushmaster work provides, Thales' close engagement with Victorian SMEs makes a valuable contribution to sustaining the diversity and capabilities of our manufacturing industry."
The Bushmasters are a testament of Australian manufacturing capabilities, with the vehicles proven to be resistant to blasts from ballistics, mines and improvised explosive devices, and are designed to carry and sustain a nine-man infantry section with room for one passenger.  Each vehicle weighs around 12,500 kilograms, has an operational range of 800 kilometres and has a maximum speed of just over 100 kilometres per hour.
Thales' success in manufacturing cutting-edge military vehicles was reiterated last year when the company secured a $205 million contract to supply the Australian Army with an additional 214 Bushmasters vehicles. To date, the Bushmaster has been exported to the United Kingdom and the Netherlands.
"The defence industry is important to Victoria, delivering major economic benefits in its own right, with an annual turnover of around $1.5 billion. As outlined in Victoria's Defence Industry Strategy, Securing the Future, we are targeting opportunities that will enhance the State's position as a critical part of Australia's defence industry capability. " Mr Hodgett said.
Victoria is currently in the stage of developing LAND 121 Phase 4 program, the $1.5 billion project is set to provide up to 1,300 new protected and unprotected light vehicles to the Australian Army.
"The Coalition Government is thrilled that Thales' outstanding design, development and manufacturing capabilities were recognised by the Commonwealth Government in its selection of the Hawkei vehicle as the preferred Australian option for LAND 121 Phase 4," Mr Hodgett said.