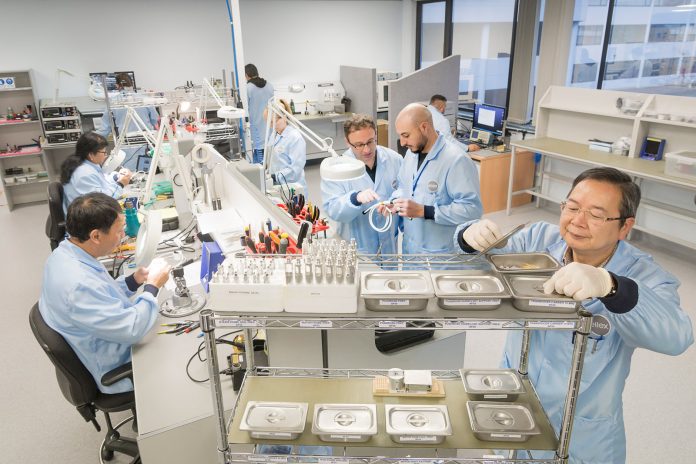 Leading ophthalmic equipment manufacturer Ellex Medical Lasers has agreed to sell its Lasers & Ultrasound business to Lumibird Group, the European leader for laser technologies.
The $100 million transaction, which is expected to close by late March 2020, has been unanimously recommended by the Ellex Board of Directors and will see Lumibird assume ownership of the Ellex manufacturing facility in Adelaide.
Ellex Medical Lasers CEO Maria Maieli said the proposed sale of the Ellex Lasers & Ultrasound business to Lumibird highlighted the value of the company's brand.
"Lumibird will make an excellent strategic fit for Ellex's market leading range of lasers and ultrasound to treat a range of important eye diseases," Ms Maieli added.
Marc Le Flohic, Chairman and CEO of Lumibird, said the combination of Lumibird's medical activities – through its subsidiary Quantel Medical – with those of Ellex offered strong potential for growth and value creation.
"To truly create a difference in the lives of as many people affected by laser treatable blindness as possible, it is vital for companies such as Quantel Medical and Ellex to come together in order to reach a critical mass and make the most of their respective strengths; be that in diagnostic devices such as ultrasound or in treatments based on laser products," Mr Le Flohic added.
Jean-Marc Gendre, CEO of Quantel Medical, said the acquisition would create a world leader for laser and ultrasound technologies for the diagnosis and treatment of ocular diseases.
"Quantel Medical and Ellex know one another very well, which will facilitate their integration," he said.
"The two companies have complementary assets, with strong brands and ophthalmic market expertise.
"Their alliance will enable us to offer a wider range of products across all levels of pricing in order to better meet clients' diverse needs".
Lumibird said the acquisition, which will be submitted to Ellex's shareholders for approval at a general meeting in early 2020, will be financed partly through equity and bank debt.
Image credit: https://www.ellex.com/