Stratasys Ltd and Makerbot have officially cemented their merger, announcing on Thursday that they have completed the deal which was first reported two months earlier.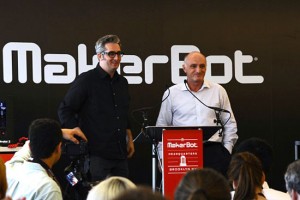 Following the terms of the merger Stratasys will issue up to 4.7 million of its shares in exchange for 100% of the outstanding capital stock of MakerBot.
"Stratasys and MakerBot share a vision about the potential for 3D printing to transform design and manufacturing," said Stratasys CEO David Reis. "Our goal now is to maximize the benefits this merger creates for our shareholders, our customers and our employees."
MakerBot CEO Bre Pettis added, "We are excited for the future – full speed ahead!"
According to the press release, MakerBot stakeholders also qualify for performance-based earn-outs that provide for the issue of up to an additional 2.36 million shares through the end of 2014.
In June the companies also announced that MakerBot will remain as a separate subsidiary, preserving its existing brand and management. The proposed merger has an initial value of $403 million based on Stratasys' closing stock price of $84.60 as of June 19, 2013.
Stratasys is a pioneer in 3D printing systems, having been in the industry for over 25 years. The company manufactures 3D printing equipment and material used across a range of sectors including the aerospace, automotive, medical and education sectors.
Meanwhile, MakerBot is a relatively new player in the 3D printing industry. Having been established only in 2009 the company has become a huge success story, selling more than 22,000 3D printers since. MakerBot has helped developed the desktop 3D printing market and has built the largest installed base of 3D printers in the category by making it accessible not just for businesses but also for hobbyists and enthusiasts.
Although Makerbot has made 3D printing technology more accessible, it does not necessarily come cheap. The MakerBot Replicater 2 sells for $2,799. However the price tag does not stop the technology's supporters from purchasing their own 3D printers. In the last nine months, the MakerBot Replicator 2 Desktop 3D Printer accounted for 11,000 of MakerBot's sales.