Holden employees who were let go last week have revealed that at least 50 more people from the purchasing and administration departments in Port Melbourne were secretly sacked by the car company, prompting speculations that future Holden cars will be sourced mostly from imported parts.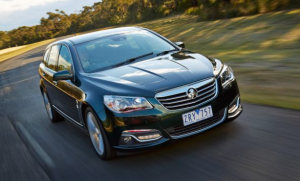 Last week Holden announced that it will be cutting more jobs as part of its restructuring process. The redundancies were centred in Melbourne where the car maker does most of its design and engineering work.
A report published in The Australian revealed twice as many workers were made redundant than was originally reported and that the clean-out of the purchasing department, which is responsible for buying the raw materials for locally-made cars, is the clearest sign that the 2017 Commodore will be manufactured using imported components.
Richard Reilly, Chief Executive of the Federation of Automotive Product Manufacturers (FAPM) said if car makers continue to rely on overseas suppliers for car parts, the effect will be detrimental on local parts manufacturers.
"There will be an impact on the local supply chain as car makers switch to global (models)," he said.
About 50 percent of the current Holden Commodore is being manufactured using locally-sourced parts, according to the report. However, less than half of the parts of the 2017 Commodore are expected to come from local suppliers, which means the iconic model would most likely have roughly the same content as the Cruze small car, which currently has 30 percent local content.
News about the other job cuts and the possibility of a 'less Australian' Commodore comes in the same day that calls for discussion between Holden and the government are renewed.
John Camillo, SA Secretary of the Australian Manufacturing Workers' Union, says talks need to start soon to ease the uncertainty of Holden.
"Every day creates more anxiety," Mr. Camillo said, quoted in the Herald Sun. "Workers are getting impatient. They're not sure if they have a future.
Earlier this week Prime Minister Tony Abbott has promised that there would be ongoing support for carmakers, provided they give something in return.
"There will continue to be a high level of assistance to the motor industry, but we expect the motor industry in return for that high level of assistance to provide us with a reasonable indication of how it is going to increase volumes, particularly export volumes," Abbott said.
Mr. Camillo supported the Government's position that Holden should have a business plan to remain viable in Australia for the next decade. He also agrees with a planned government review of the automotive industry but is concerned that it will take a long time and assurance must be given to Holden's suppliers and workers right away.
"We need to make sure we get Holden to make that decision as soon as possible," Mr. Camillo said.
Sean Poppitt, corporate affairs manager at Holden, revealed the company is looking forward to discussions with the Federal Government and key stakeholders about policies that will protect Australia's automotive industry.