Universal Robots – the Danish manufacturer of flexible industrial robots – has appointed Melbourne-based Andrew Donald Design Engineering (ADDE) as a new distribution partner for the Australian market.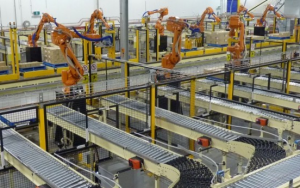 ADDE specialises in the design of industrial automation solutions.
"We have traditionally been a distributor of high speed industrial robots but the benefits of collaborative robots are appealing to a wide range of manufacturers where the robots can work alongside workers at a bench or on the production line. Universal Robots' products will enable us to offer tailored solutions to clients that want an automated offering that is compact and easy to program," said Barry Hendy, Managing Director, ADDE, in a media release.
Universal Robots products are also distributed in Australia by Auto Control Systems and Sensorplex, and by Design Energy in New Zealand.
"The addition of ADDE as a distribution partner means we now have three authorise distributors in Australia and one in New Zealand. We are continuing to build our presence across the region and the acquisition of distributors capable of delivering effective technology solutions to local customers is vital to our growth," added Universal Robots General Manager for APAC, Shermine Gotfredsen.
Universal Robots' collaborative robots are lightweight, simple to program and can work alongside employees with no safety caging (subject to a risk assessment).
Three months ago, the company launched the UR3 – the most flexible, lightweight tabletop robot in the world capable of working in confined workspaces where construction of large safety guarding is not feasible. The UR3 can also operate in environments with toxic or hazardous materials.
For more information on Universal Robots distribution partners, please go to: http://www.universal-robots.com/en/distributors/