Leading global gases and engineering company BOC has announced that the new EWM Xnet welding monitoring software is now available in Australia for use with all EWM high-performance welding machines.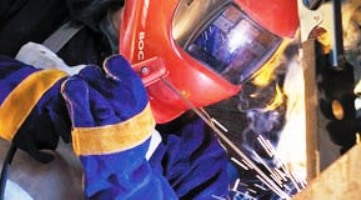 BOC Application Sales Engineer Patrick Fenemor said the Xnet welding workshop monitoring software is user-friendly factory software that not only enables companies to record and track data from each of their welding machines in real-time, but also gives them access to all historical weld information.
"Users can easily identify inefficiencies in welds and when maintenance of welding machines needs to occur – ultimately helping them make savings and improve productivity. Each machine can be connected via WIFI or LAN cable to the centralised hub, giving each welding machine its own IP address. Xnet also lets users monitor each machine's wire and power consumption in real-time," Mr Fenemor said.
"Consumption data recorded by EWM Xnet gives users a breakdown of how much wire and power is being used by each machine daily, weekly and monthly, as well as how many hours each machine is being used and on standby – allowing companies to accurately identify the volumes of consumables used on a project, how long a machine is on for and also how long it is not being used."
He said Xnet also gives welders a true and complete record of what volts, amps and program they are using, ensuring that the integrity and compliance of the weld is maintained.
"Xnet is also able to calculate heat input in real-time to make sure that finer grain steel welds retain their strength even after the weld is made," Mr Fenemor added.
"Companies using Xnet are able to easily access historical welding data to prove that welds produced are meeting industry regulations and standards."
BOC, the exclusive distributor of EWM products in Australia and New Zealand, is a member of The Linde Group which supplies compressed and bulk gases, chemicals and equipment around the globe.
The company specialises in developing safe, sustainable and innovative solutions for customers in many specialty sectors, heavy industry and medical environments, including steelmaking, refining, chemical processing, environmental protection, wastewater treatment, welding and cutting, food processing and distribution, glass production, electronics and health care.