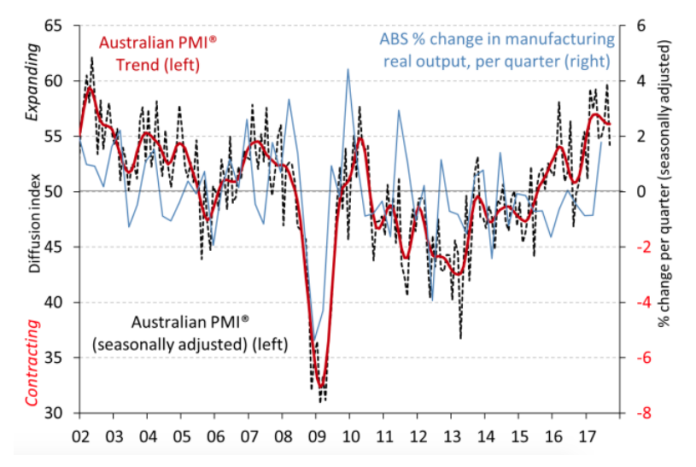 The Australian PMI has extended its unbroken run of expansion to 12 months in September, marking the longest run of growth since 2007.
According to AI Group's report, the Australian PMI slipped by 5.6 points to 54.2 this month but remained in expansionary territory following Augusts' record breaking readings of 59.8 points.
The September report showed that all seven activity sub-indexes in the Australian PMI expanded or were stable, with exports recovering from Augusts' mild contraction.
The survey has also found that all eight manufacturing sub-sectors expanded in September (albeit at a slower rate than in August), with the non-metallic mineral products sub-sector hitting a new record high (up 1.5 points to 75.5).
The input prices sub-index increased by 2.9 points to 65.8 in September, while the wages sub-index also climbed a further 2.2 points to 61.2.
The report also showed that the selling prices sub-index slipped by 4.4 points to 49.3 in September, indicating stable pricing after some sporadic price rises in previous months.
Ai Group Chief Executive, Innes Willox, noted that whilst the recovery in manufacturing activity was continuing, the September readings indicate that conditions are moderating and growth is decelerating.
He said the climbing energy and gas prices were of 'great concern' to all manufacturers, squeezing their already-fragile profitability.
"Manufacturing growth was supported by growth in all eight sub-sectors in September (trend). Non-metallic mineral products (mainly building materials) hit a new record high of 75.5 points, reflecting the strength of demand for building-related products," Mr Willox continued.
"Positive sources of local demand for manufacturers in September included apartment and infrastructure construction; mining and agricultural equipment; renewables and utilities. Respondents also reported a rare spike in exports of construction-related products for emergency relief and reconstruction in the US following recent hurricane damage. Last orders are now underway for suppliers of components to Australian auto assembly and the final impacts of this on the manufacturing sector overall will be more evident by year's end."