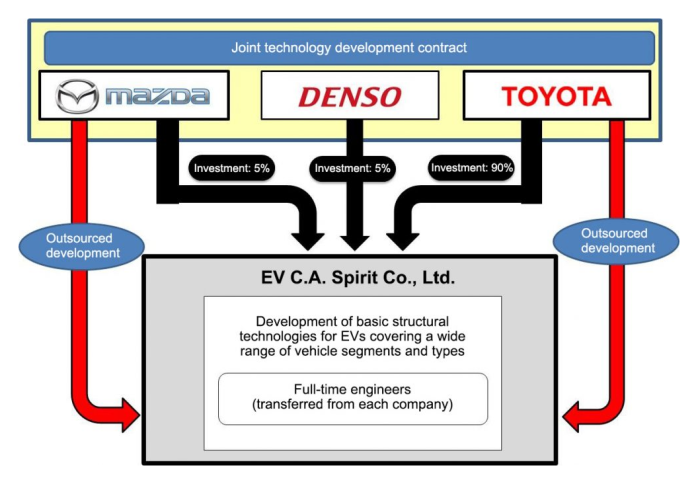 Toyota has unveiled plans to develop basic structural technologies for electric vehicles under a joint technology development contract with Mazda and Denso.
The three parties are establishing a new company called EV Common Architecture Spirit Co. Ltd, which will be 90% owned by Toyota, with Mazda and Denso to hold a 5% stake each.
The new entity will be tasked with developing a diverse offering of models ranging from mini-vehicles to passenger vehicles, SUVs and light trucks to ensure flexible and rapid response to market trends.
It will initially have approximately 40 employees including selected engineers from the three companies.
Japan's largest carmaker said the development project would benefit from utilising the company's existing production facilities and allow both Toyota and Mazda to create appealing EVs that embody the unique identities of each brand.
It said new regulations, which mandate a certain proportion of electric vehicle sales, required the development of a wide range of powertrains and technologies as countries are increasingly adopting stringent policies to help reduce greenhouse gases.
"We regard electric vehicles (EVs) as a key technological field in this process alongside fuel-cell vehicles," Toyota said in a statement.
"With EVs yet to find widespread market acceptance, the huge investments and time required to cover all markets and vehicle segments is a pressing issue for individual automakers when responding to the widely varying demand for vehicles around the world."
"The new company aims to innovate the development process by combining the strengths of each company, including Mazda's bundled product planning and prowess in computer modelling-based development, Denso's electronics technologies, and the Toyota New Global Architecture (TNGA) platform."