The Australian Industry Group has forwarded its first submission to the Productivity Commission's review into the automotive industry.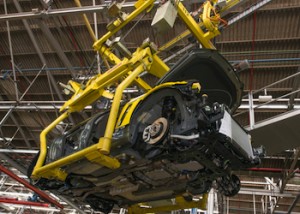 According to a media release Ai Group Chief Executive Innes Willox said as a "matter of principle" their organisation supports industry policies that enhance business growth and productivity, regardless of the sectors in which the businesses operate.
With this in mind the AI Group believes that the funding proposed under the New Car Plan should be allowed to run its course until 2020 in the interests of promoting trust and certainty in industry policy, not just in the auto sector.
The New Car Plan which was proposed by the former Labor federal government plans to give a $500 million support to the car industry until 2020.
Ahead of yesterday's hearing in Melbourne Mr. Willox said "policy certainty is especially crucial in programs that are aimed at fostering long-term investment and innovation, and in industries that have very long lead-times in their investment decision-making cycles."
"Australian businesses across the automotive supply chain have been planning based on commitments in the current funding model, which include around $500 million that is now being reconsidered. Their investment and employment outlook is seriously jeopardised when industry policy is amended or when crucial funding is axed on the run. Such policies and funding commitments need to be predictable and above all, stable and we believe the $500 million commitment should be honoured," said the AI Group Chief.
Mr. Willox however said the plan could be subject to certain revisions if deemed appropriate due to changed circumstances.
The AI Group is also asking the Commission to look at the macroeconomic environment when examining the suitability or timing of any changes to automotive assistance arrangements.
"We note that there is a very limited likelihood of increases in manufacturing employment and investment in the immediate outlook period. This means that further shocks to the domestic manufacturing sector (due to changes in policy) could do more damage than they would if they were implemented at a time when manufacturing – and the broader economy – were more resilient."
"In this fragile economic environment, Government should be wary of inadvertently exacerbating the tough trading conditions faced by businesses across many of our key industrial sectors."
The AI Group will make a second submission to the Productivity Commission in February next year.
See the full submission from the AI Group here.