Southern California-based Airwolf 3D has announced the launch of its latest innovation, the Personal 3D Printer Model AW3D HDx, which is an upgrade from their previous AW3D HD model.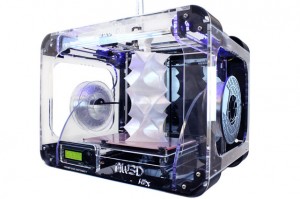 The new product features several upgrades, including Airwolf's patent pending JRx hot end, which can easily handle very high temperatures of up to 599 degrees Fahrenheit, making the printer ideal for printing with polycarbonate materials, Bridge nylon and Nylon 645.
"The HDx features a class leading print volume of  1150 cubic inches (12"x8"x12"), which equals 18,878 cubic centimetres and offers layer-to-layer resolution as fine as .06mm (.002"), lightning-fast speeds and a partially enclosed, yet easily accessible proprietary frame design," it says in the product overview.
The HDx is also fully autonomous, so you don't have to couple it to a computer to print.
Aside from these features the new AW3D HDx also features durable nylon extruder gears, a finer 2mm threaded Z rod, and enhanced movement control speeds.
According to the press release on the Business Wire, the new AW3D HDx retails for $3,495.
"Imagine a 3D printer that can print engineering-grade materials placed on every desktop," said Erick Wolf, founder and CEO of Airwolf 3D.
"Imagine the creativity it could unleash as engineers and artists experiment and create objects that until now were virtually impossible to affordably print. That's our vision: to bring imagination to the desktop."
In comparison with the older AW3D HD model, the new AW3D HDx is much faster, allows for much accurate printing and has exceptional acceleration.
Shipping takes about 4–5 weeks and users will get their 3D printer fully assembled and calibrated, along with 2 pounds of ABS 3mm filament.
For more information, visit www.airwolf3d.com