Dexion, the leading storage and materials handling specialist, and its smart device technology partner, TZ Limited, will take part at this year's POST-EXPO 2014 Asia Pacific, scheduled to take place in Hong Kong on 20–21 May.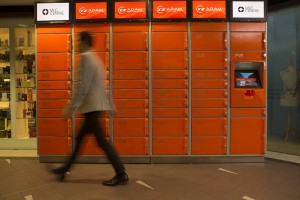 "Dexion and TZ Limited will be displaying the recently released TZ A.D.A.M. Parcel Locker Network, which is revolutionising online shopping for customers through providing an alternative delivery channel," it says in the press release by Dexion.
The Smart Locker System provides a convenient, secure and cost-effective way to shop and is the first fully automated end-to-end parcel locker network of its kind in Australia.
"Both Dexion and the team at TZ are very excited about the upcoming POST-EXPO conference and exhibition. POST-EXPO brings together the best companies in postal operation from across the Asia Pacific region and presents a unique opportunity to showcase the unique capabilities and benefits available to this niche yet important market," said Michael Cummer, National Sales Manager at Dexion.
"Our feature product on display will be the TZ A.D.A.M. Parcel Locker Network, which was released earlier this year. This system was developed in partnership with TZ Limited with the aim of completely revolutionising online shopping delivery methods to make life easier for the consumer."
Thanks to the TZ A.D.A.M. Parcel Locker Network, customers can now have their parcels delivered to a locker at a location of their choice, with the lockers being accessible 24/7. The customers will be informed via email or SMS that their parcel has been delivered and they can go pick it up whenever they wish.
"Parcel lockers provide a seamless end-to-end solution for the changing lifestyle of modern consumers whose main priority is convenience. It is very exciting to play and integral role in the deployment of a network that is shaping the future of online shopping," said Mr Cumner.
With a special focus on business development and innovation, POST-EXPO 2014 is a one-of-a-kind event that is set to bring together world leaders in the postal, parcel and courier industries from across the Asia Pacific region. Companies will have the perfect opportunity to connect with the leading postal operators in the Asia Pacific region and showcase their latest innovations to key decision makers.
For more information about POST-EXPO 2014 Asia Pacific, go to http://www.postexpoasiapacific.com
For more information about Dexion, go to www.dexion.com.au