Aluminium giant Alcoa announced that its aluminium rolling mills at Point Henry and Yennora have shut their doors for good, leaving 430 workers without a job.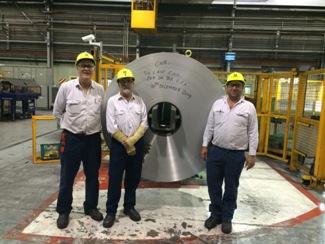 "There is no doubt it is a sad week for our 430 employees, their families and the Geelong and Yennora communities," said AARP Managing Director Malcolm Murphy in a news release.
"I am thankful for the dedication that our people have shown across their Alcoa careers, particularly in recent months when the closure was imminent. A significant amount of change has occurred in our business this year, and our employees have responded in the best way they knew how; by working more safely than ever and delivering a high quality product to customers."
Alcoa's Point Henry operations have contributed more than $10 billion to the Australian economy through royalties, taxes, wages, purchasing and investment, including more than $100 million a year into the Geelong region.
The Yennora facilities contributed more than $3.5 billion into the economy.
Last July, Alcoa shut down its Point Henry aluminium smelter, leaving around 500 workers without a job.
The closure of the aluminium rolling mills at Point Henry and Yennora was announced in February following a two-year review of the company's operations which found that the Point Henry smelter and rolling mill were not financially viable.
Most of the workers have been retrained and have acquired the necessary skills to secure sustainable alternative employment in the region.
The company implemented a multi-million dollar program that included career transition assistance, one-on-one career counselling, directly sponsored short-term courses and financial support for employees to undertake their own accredited training.
"With these skills, our employees are well placed to transition into future employment," Mr Murphy said.
The company revealed that a decommissioning of the Point Henry smelter is currently underway and environmental assessments are being undertaken at both Point Henry and Yennora in order to determine how best to return the sites to productive use.