Amcor was awarded for excellence at the 2013 Packaging Council of Australia (PCA) Packaging Design Awards, receiving a number of accolades, including Gold for the Carlton Draught Keg Can in the Beverages category, Silver for the Neverfail in a Bag solution in the Household & Office category, and Highly Commended in the Sustainability category.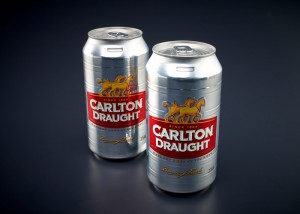 The Awards were announced in Melbourne on November 27th, recognising excellence in Australian packaging design and innovation across a range of categories including Food, Beverages, Health & Beauty, Household & Office, Seasonal & Promotional and Industrial applications.
According to the news release from Amcor, the Carlton Draught Keg Can was developed in conjunction with Amcor Innovation & Design, Cowan Packaging & Design and the Carlton & United Breweries (CUB) Brand team.
"Australian beverage manufacturers are faced with the constant challenge of finding new ways to differentiate their product and get noticed on shelf. Working together with CUB, we have found an effective way of leveraging our innovative packaging capabilities and pushing the boundaries of design to help reinvigorate Carlton Draught in a novel way," said Brian Lowe, Group General Manager of Amcor Beverages.
"Innovation is core to our business, and we look forward to continuing this focus for our customers as we demerge from Amcor and become 'Orora Limited' later this year."
Amcor also won the Silver award in the Household & Office category for the Neverfail in a Bag solution developed by Amcor Flexibles Asia Pacific in conjunction with Coca Cola Amatil (CCA).
"The opportunities for the Neverfail in a Bag system are significant, with the possibility of extending the innovation to other bulk beverage and liquid product dispensing systems, with multiple benefits for numerous stakeholders including the ease of handling for consumers, reduction of materials, optimisation of freight, transport and storage, opportunities for recycling and reduction of waste to landfill," said Ann O'Hara, Vice President and General Manager of Amcor Flexibles Australia.
Amcor is also a key packaging supplier to Nestlé who won Gold in both the Food and Consumer Accessibility categories for their Maggi Stir Fry Creations range featuring a centre perforation for separation of the two co-joined pouches containing different pastes and sauces.
"It is a pleasure to develop packaging solutions in conjunction with our customers and be recognised by the industry for new innovative designs," said Ms. O'Hara.
In the past, Amcor won the Gold Sustainability awards in 2008 and 2010, as well as the Gold awards for Brand Design and Industrial Packaging in 2010, the Bronze award for Innovation in 2011 and the Gold award for Industrial Packaging in 2012.