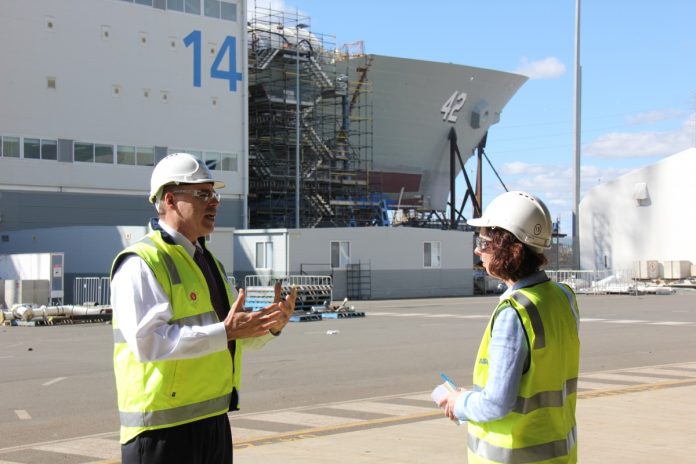 ASC has partnered with Perth-based Forgacs Marine & Defence to offer a low risk, commercial shipbuilding solution for the Offshore Patrol Vessel (OPV) program.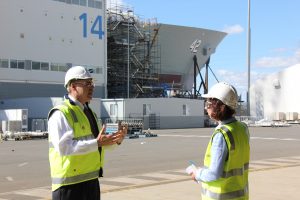 Last week, ASC confirmed that Damen and Lürssen – two of the three short-listed companies in contention for the OPV project – had both selected the Australian shipbuilder and Forgacs as their preferred partners for the OPV program, should either be awarded the tender later this year.
ASC's CEO Mark Lamarre said the OPV build would create more than 300 shipbuilding jobs at its peak, adding the company was well-placed to provide a highly skilled shipbuilding team with experience on the Air Warfare Destroyer program.
"As Australia's only proven builder of major warships, ASC Shipbuilding's experience and capacity has been recognised as part of the Lürssen and Damen tenders. We welcome the opportunity to deliver a low-risk, commercial shipbuilding solution, in partnership with Forgacs, to the winning designer," Mr Lamarre said.
"The ASC Shipbuilding-Forgacs solution will deliver on the Government's enterprise approach to naval shipbuilding, with the initial OPVs built in South Australia to retain shipbuilding capability until the start of construction for SEA 5000 Future Frigates from 2020, followed by continuous minor warship construction in Western Australia."
He said the company was delighted to partner with Forgacs as a proven, highly efficient fabrication company active in the marine and oil and gas sectors.
"The proposed ASC Shipbuilding-Forgacs JV will build on the partners' existing capabilities to establish a significant additional shipbuilding capability for the nation in WA," Mr continued.
"We are well-placed to efficiently construct OPV platforms as well as support other minor warship construction for Australia."