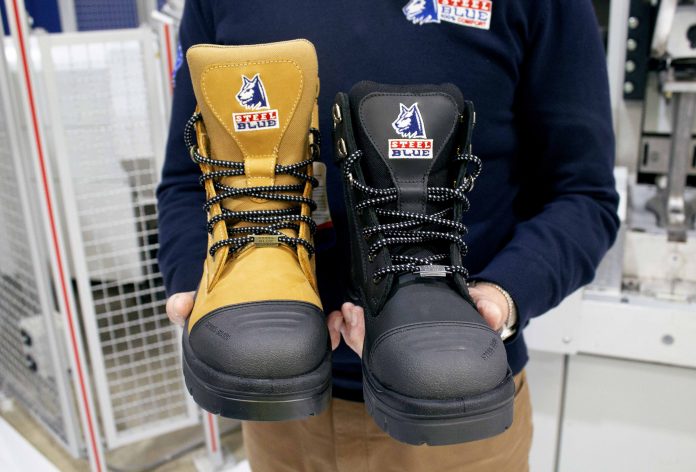 Media Release
Steel Blue – Australia's number one supplier of work boots – today launched its new graphene enhanced range to the Australian market.
Already regarded as innovators in the industry, the boot manufacturer teamed up with Australian company First Graphene to make their world-renowned boots even more durable.
The boots in the new GraphTEC™ range are made by adding First Graphene's PureGRAPH® material into the TPU outsole and scuff cap, creating a leading-edge range of men's ultra-durable work boots.
The announcement comes just a few months after the company announced a A$2 million investment into local manufacturing with the acquisition of a new DESMA machine. The GraphTEC™ range will be manufactured in Australia using the new equipment.
According to Steel Blue Chief Executive Officer Garry Johnson, the boots – the first in the world to be enhanced with graphene – will prove ideal for the remote and harsh operating conditions of the mining sector.
"Graphene has remarkable benefits for people wearing our boots in terms of durability and abrasion resistance – proven to be 200 times stronger than steel," said Garry.
"We've been working for some time now to try and find a solution to make our boots more durable, particularly for our customers who work on mine sites – iron ore, for example, is extremely abrasive."
Durability was not the only factor to consider. It took time working with First Graphene to develop a product that boasts the strength of graphene yet upholds Steel Blue's 100% Comfort Guarantee.
"It's no use fixing one pain point for our customers and then creating another one," explained Garry.
"Yes, we wanted to increase durability and we wanted to increase abrasion resistance, but we didn't want to impact comfort. For us, this was sacrosanct because we're known for comfort."
Twice the durability is also a win for the environment a benefit that fits nicely with Steel Blue's commitment to environmental and social sustainability.
"We believe that to be successful in business, you have to be a good environment and community partner. And to be honest, you can do this without impacting your bottom line."
Founded in 1995 and 100 percent Australian owned, Steel Blue is renowned for designing and producing the highest level of comfort and safety in work boots.