The multi-purpose Viper steamer, created by Coffee Machine Technologies, has won the Best New Australian Made Product Award at Fine Food Australia – the country's leading trade show for the foodservice, hospitality and retail industries that takes place in Sydney and closes today.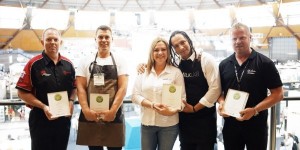 "2015 has once again proved to be an exciting and challenging year for our industry. We constantly need to reinvent ourselves and evolve in line with consumer demands and industry trends, and the New Product Awards is a great opportunity to recognise those businesses that are doing just that. It's also a great way to celebrate everything that is great about the business we are in," said Fine Food Australia Event Director Minnie Constan who hosted the Awards Ceremony.
By winning the award, the company now has a licence (paid in full for one year) to use the Australian Made logo on its product which is made in Victoria with all Australian-made components.
"Coffee Machine Technologies' commitment to Australian manufacturing is commendable and we look forward to helping the company promote its great quality Australian Made products to the world. The Australian Made Campaign is proud to support the food and foodservice industries through the Fine Food Best New Australian Made Product Award," said Australian Made Campaign Chief Executive, Ian Harrison.
"We are very excited to have won the award for 'Best New Australian Made Product'," said Coffee Machine Technologies Managing Director, John Colangeli.
The multi-purpose Viper steamer works independently, froths milk manually or automatically and dispenses hot water for tea. Its unique design saves bench space and improves productivity.
According to the news release by Australian Made, runners-up for the award were Queensland Plastics, for its preparation board, and Kialla Pure Foods for its 'Plate 2 Farm Tracker' software.
For more detailed information, please go to http://vipersteamer.com.au/