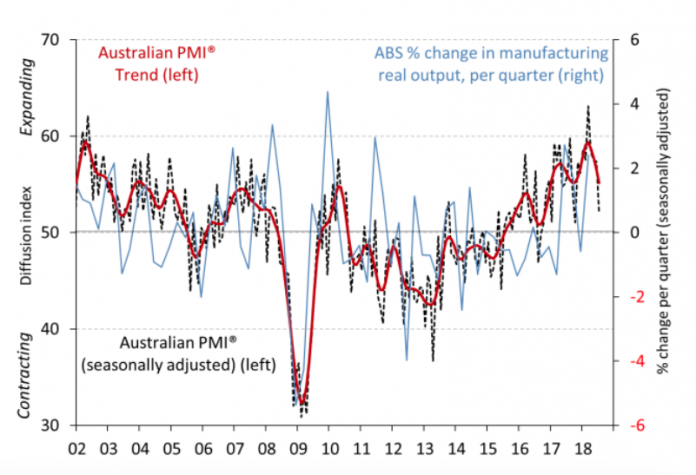 According to the latest survey by the Australian Industry Group (Ai Group), Australia's manufacturing sector has expanded for the twenty second month in a row.
The Performance of Manufacturing Index (PMI) recorded a drastic drop to 52.0 points in July, down 5.4 points from June, making it the weakest result since October of last year.
Three of the seven activity sub-indexes were stable, three expanded and one contracted. Five of the eight manufacturing sub-sectors expanded. Manufacturing employment growth stands out due to the recorded sharp drop last month.
"Infrastructure projects continue to support demand for manufacturing products, but rising energy costs and growing wage pressures are constraining activity. Many respondents noted an increase in wage rates from 1 July – the date when the Fair Work Commission's 3.5% minimum wage rise came into operation," said Ai Group Chief Executive Innes Willox in a media release.
"Employment was stable in July after a year of growth suggesting that employers may be wary of the increased costs of employment as the FWC decision reverberates through the labour market. There were strong showings from the larger sub-sectors of food & beverages; petroleum, coal & chemical products; non-metallic mineral products; and machinery & equipment, while the smaller sub-sectors of wood & paper products and textiles, clothing & other manufacturing contracted in July."
All in all, the sector continues to grow; however, despite the improved activity for almost two years, it is clear that the momentum is slowly, but surely winding down.
Click here to view and read the full report.